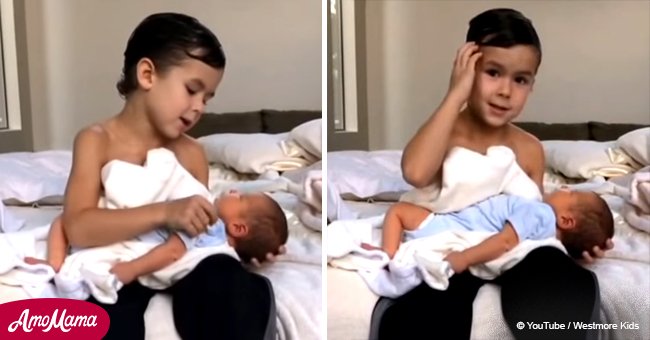 6-year-old sings lullaby to baby brother while mom captures the sweet moment on film
He is only six years old, but Grayson can teach anyone how to become a good older sibling.
The young boy was filmed singing his heart out, but in the most tender way, to put his newborn brother to sleep.
In a YouTube video shared on December 7, 2013, Grayson can be seen sitting on the edge of a bed while cradling his baby brother on his lap and crooning softly.
He looks tenderly at his little brother's face while serenading him with a heartfelt lullaby - John Denver's No One Like You.
"I like your face, it's really you," he sings while gently rocking his baby brother. "There's no one, no one exactly like you."
With his lullaby, Grayson truly professed his unconditional love for his family's newest member.
The one-minute clip, posted by Westmore Kids, has been viewed more than 10.2 million times, with almost 7,000 YouTube users hitting the Like button.
Netizens heaped praises on the six-year-old boy.
'He sounded like an angel,' quipped Jonell Abrao.
Others also credited Grayson's parents for his beautiful gesture toward his little brother.
'Love and respect to their mom and dad,' commented Mona Salim. 'The way you raise up your kids reflects your inner kindness and love. It makes me happy to see such examples of balanced families.'
For sure, Grayson's parents are doing well in raising their children. They must also be proud of Grayson.
DJ Jay-R Nazareno wrote: 'That boy is adorable and will make a good older brother! This makes me so happy!'
Jealousy often occurs with new additions to the family, but Grayson has proven that having a new family member also means spreading more love in the world.
This video should serve as an inspiration to all parents. Priceless moments happen between young siblings.
Please fill in your e-mail so we can share with you our top stories!