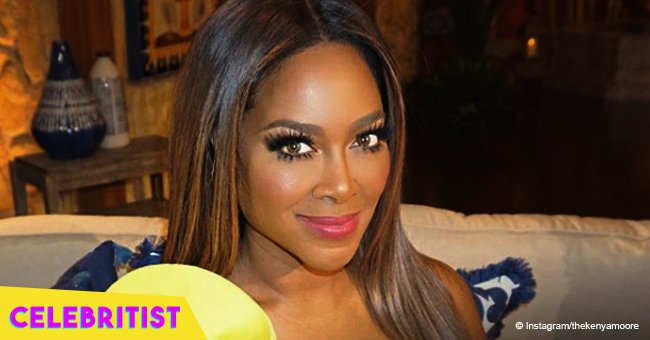 Kenya Moore accidentally reveals the gender of her baby
It seems Kenya Moore accidentally slipped about her bundle of joy's gender after posting a comment on her friend Kandi Burress' Instagram photo.
The exchange between Kandi and Kenya started in a completely innocent way, with Burress posting a photograph after she ran into the pregnant Kenya while running through the busy Atlanta airport early in the morning. In the caption of her post, she said she couldn't wait to meet Baby Daly.
The happy expectant mother commented on her friend's post, pertaining to her baby as a boy, which led other people to believe that the reality TV star has indeed found out the gender of her unborn child.

Source: Instagram
Due to this comment, fans assumed that she was hinting that Baby Daly is actually a boy. However, after realizing that fans were making a big fuss about her comment, Moore felt the need to clarify what she had just wrote. The reality TV star insisted that she does not know the gender yet, and that she chose to wait until she had given birth to find out Baby Daly's gender.

Source: Instagram
As for why she called her baby a "he", she claims her doctor calls all baby "boys" which shows how her comment was definitely not a reveal.
When the photo was taken, Kenya, who is expecting her first child with her husband Marc, was extremely happy to see Kandi beore the former Xscape member boarded her flight. Kandi is traveling to New York to film her latest project. And as for the Dalys, they split their time between Atlanta and New York constantly due to Marc's business in the Big Apple.
After Kenya's issues with her "Real Housewives of Atlanta" producers and co-stars, she has been "demoted" on the show, and is not considered a regular. Because of this, Kandi and the rest of the ladies were seen filming the show's latest episodes in Miami without Kenya.
Please fill in your e-mail so we can share with you our top stories!