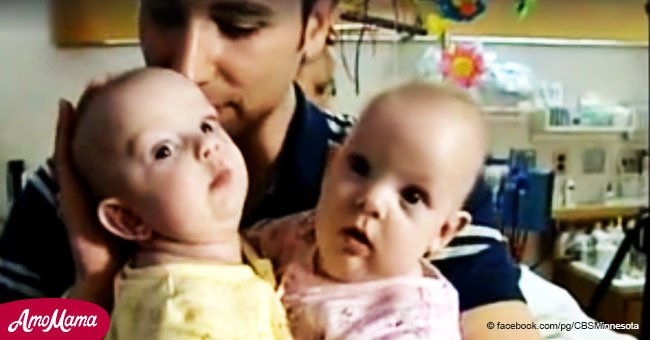 Conjoined twins separated 12 years ago have matured into unique individuals
Born conjoined twins, Abigail and Isabelle Carlsen now live as two different individuals even though they remain inseparable as far as their bond is concerned.
The twins lived the first six months of their lives connected through their chest and stomach until a Mayo Clinic team of surgeons was brave enough to try and separate the children in 2006.
As reported by CBS Minnesota WCCO, the twins are celebrating twelve years apart and they seem to have developed two distinct personalities that shine through on a daily basis.
They were called 'miracle babies' because of the way they were able to survive the separation. It was one of medical science's most intricate cases and one that many doctors would walk away from.
Just a reminder - if you wish to learn more about Abigail and Isabel Carlsen, or if you are interested in more curious medical stories, please consider following us on our Twitter account @amomama_usa.
Isabelle's heart was lodged between her and her sister's chest as if they were sharing it, and their organs were wrapped around each other. In order to be prepared for the procedure, the team trained for months to make sure everything went as smoothly as possible.
The surgery took place on May 12, 2006; it required the combined efforts of 17 surgeons and lasted 12 long hours. Two weeks later, they were released from the hospital and returned to their North Dakota home.
Their parents, Jesse and Amy Carlsen, will be forever grateful to the men and women who saved their babies' lives and allowed them to be perfectly normal.
Abigail and Isabelle might not remember being connected, but they admitted to having some quirks. For example, they revealed that whenever they go to a mall, they tend to hold each other's hands.
Despite being twins, and having been born the way they did, Abigail and Isabelle don't like to be confused with one another and confessed to having looked in the mirror sometimes wondering why couldn't people tell them apart.
According to their fourth-grade teacher, Tiffany Moos, the two are very healthy and energetic. As for their grades, Moos considered them to be at an advanced level when compared to the other children in their class.
The twins' larger-than-life personalities guaranteed them an advantage regarding friendships, and their teacher shared that they were friends with everyone around them.
Abigail and Isabelle are now scheduled to go back to the Mayo Clinic for a check-up, much like they have been doing every couple of years since the miraculously successful surgery.
Please fill in your e-mail so we can share with you our top stories!