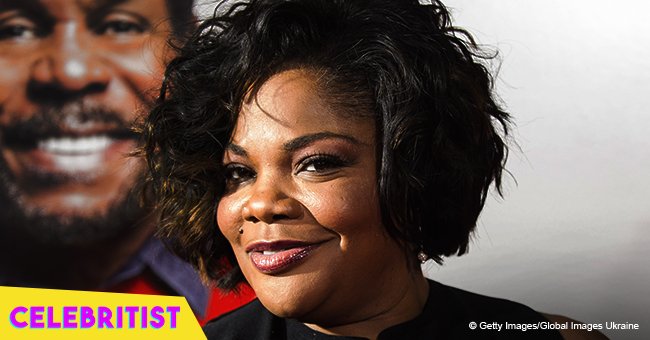 Mo'nique flaunts slimmer body in tight gym clothes after exposing secret call with Tyler Perry
The actress and talk show host has gone on a weight loss journey in the last few months, and has made sure to keep all her fans up to date with her progress and her favorite tips.
Mo'Nique has always been an advocate for loving the skin you'e in, often using the slogan "bigger is better." But a conversation with her husband, in which he told her that her weight was not healthy and would take her from him, changed her mind.
Since then, she has drastically changed her diet, and started on a rigorous exercise program that has helped her drop to under 200 pounds for the first time in her adult life.
Recently, she took to Instagram to share yet another of her exercise videos, showing fans exactly how she has been able to slim down so much despite her former size.
"Hey my loves. KEEP PUSHING. New Challenge. 39yrs & younger vs. 40 & up. WHAT YALL YOUNG SISTERS GOT," she captioned the shot, encouraging her fans to try it for themselves, along with a link to her new YouTube channel.
Since the beginning of her weight loss battle, she has posted plenty of her exercise videos as challenges to her followers.
She originally lost over 100 pounds, before losing even more weight to trim down to under the 200 pound mark.
Mo'Nique has recently made public phone calls between herself and Tyler Perry, one of the people who provided promotional assistance to the film Precious.
The film went on to win a People's Choice Award, and Mo'Nique won an Academy Award for Best Supporting Actress.
In 2017, Mon'Nique made claims that Perry, as well as others providing promotional assistance to the film, including Oprah Winfrey, and the director, Lee Daniels, had put the word out that she was difficult to work with.
Part of the reasons for their blackballing her was the fact that she refused to travel overseas to promote the film, for which they told her they would not be compensating her. On top of that, she was paid only $50,000 for her role.
Since then, Perry has sided with her that she has been treated unfairly in Hollywood, and even vowed to make amends with the actress.
"This is Tyler Perry talking. I'm gonna call and find out what money is coming in from Precious, and I'm going to send that to you," he says in the audio Mo'Nique released. "I'm going to send that over to you. Whatever it is, I'm gonna send it to you."
Please fill in your e-mail so we can share with you our top stories!