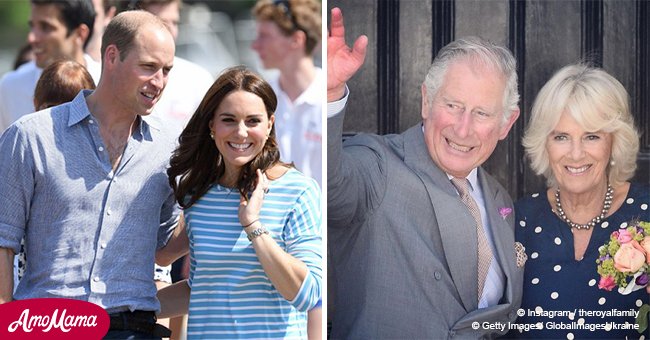 Prince William and Kate Middleton's lives will change after Charles becomes King
In all likelihood, it will be Prince Charles who will ascend to the throne after his mother. The step will bring in many changes in every Royal's life including Prince William and Kate's.
Duke and Duchess of Cambridge will have a significant change in their fortunes as they assume a new duchy and new titles.
The Prince of Wales became the 24th Duke of Cornwall in 1952 when Queen Elizabeth ascended to the throne. It was not until the age of 21, in 1969, that he became entitled to the full income of the Duchy after taking over its management, reported Duchyofcornwall.org.
Read more on our Twitter account @amomama_usa.
Prince Charles is the longest-serving Duke of the Duchy that was created in 1337 by Edward III.
When he assumes the title of the King, his eldest son, Prince William and his wife, Kate Middleton, will take of the duchy, its vast fortunes, and new titles.
It is also speculated that the two will become Prince and Princess of Wales, the traditional title of the heir apparent.
The Duchy of Cornwall was created to provide independence to Prince Edward, with a charter that dictated each future Duke of Cornwall be the eldest surviving son of the monarch and heir to the throne.
Encompassing 135,000 acres in land in southwest England, the estate includes farms, residential and commercial properties, and natural resources mainly quarries, rivers, forests, and coastal areas. The current value is $1.2 billion.
When William assumes the title as the Duke of Cornwall, he can live quite comfortably off the profits. Charles earned around $27.3 million from the duchy in 2017. There is another rule that says a Duke cannot sell the duchy.
Charles has been taking an active part in the management of the estate. He, along with his family visits the estate regularly and he has implemented sustainable initiatives such as renewable energy and organic farming.
Earnings from the duchy have been used to fund Charles' charity the Prince's Trust and have supported local organizations, businesses, and communities.
Please fill in your e-mail so we can share with you our top stories!