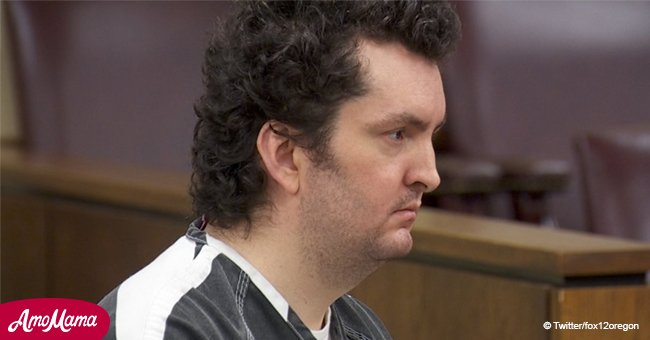 Man sentenced to life on charges of murder and aggravated animal abuse
Joshua Webb, a resident of Clackamas County, was charged for grueling crimes including the murder of his mother, attempted murder of a grocery clerk and the lethal abuse of his mother's dog.
On Tuesday, 37-year-old Joshua was convicted for murdering and decapitating his mother on Mother's Day last year, as reported by FOX 12 Oregon.
Along with the horrific murder of his mother, he was also found guilty of aggravated animal abuse of her dog that resulted in its death, along with a third crime of attempted murder of a grocery clerk.
For all the charges, Webb pled guilty except for insanity.
The story of Webb's gruesome crimes made headlines after he walked into a grocery store in Estacada on May 14 last year, carrying his mother's head with him.
Source: FOX 12 Oregon
Read more about this story on our Twitter account @amomama_usa.
Webb waived off his right for a jury trial and acknowledged that every charge against him was factually accurate, issuing an immediate confession.
After being examined by two expert psychiatrists, Webb was diagnosed with a number of psychotic conditions including schizophrenia.
Webb has been on anti-psychotic medication since the time he was taken into custody. However, he has stated that he still experiences delusions, hallucinations and hears voices.
Following the court's verdict, Webb will be transferred to the Oregon State Hospital from the Clackamas County Jail.
The case was presided by Judge Robert Herndon, who did not permit any conditional release for the convict. However, he asserted that his release could be made possible in case of successful treatment.
The family of Webb was present at the court during the verdict, and although they did not make any comments, his sister later released a statement emphasizing that she did not want her brother to ever be released.
Michael Wagner, the grocery clerk who was attacked by Webbs, also chimed in on the sequence of events.
Speaking to FOX 12, Wagner revealed that Webb entered the Harvest Market store hours after killing his mother and tried to stab him with the same knife.
Speaking of the case, Judge Herndon revealed that he had never come across a more profound case of mental illness in his 21 years of service.
Please fill in your e-mail so we can share with you our top stories!