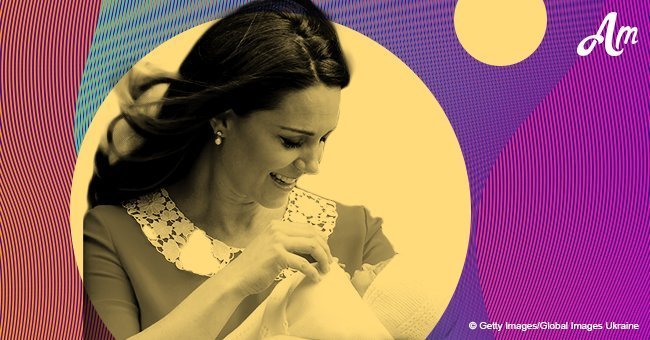 Official Royal portraits of Kate Middleton's son Prince Louis
Kensington Palace released the official photograph of Louis Arthur Charles about two weeks after the Prince's birth on April 23.
The official twitter account of the Palace shared two photographs, both of which were taken by the Duchess of Cambridge herself.
One of the photographs revealed 3-year-old Princess Charlotte, their only daughter, holding her newborn baby brother in her arms and kissing his forehead. Charlotte is seen wearing a beautiful blue outfit with details in white as she shares the frame with her brother.
Kensington Palace confirmed that the photograph was taken on May 2 to mark the occasion of the 3rd birthday of Princess Charlotte by her doting mother, Middleton, who is also known for her love for photography.
According to Daily Mail, the Duchess has a background in the arts and she was educated in History of Art at the University of St. Andrews in Scotland. She was also appointed as the first royal patron of London's V&A Museum because of her inclination toward arts.
For many, the photograph was much similar to the one Middleton took back in 2015 when Prince George and his sister were photographed together, which was also shared by Kensington Palace.
On May 5, the Palace also shared another photograph of Prince Louis. This time, however, he was alone in the snapshot. This picture was also taken by the Duchess of Cambridge.
Through the caption, Middleton and Prince William took the opportunity to thank members of the public for their 'kind messages following the birth of Prince Louis, and for Princess Charlotte's third birthday.'
During the wedding of Prince Harry with Meghan Markle, young Prince Louis had to stay home with a babysitter while his older siblings all played important roles in the Royal Wedding, according to Country Living.
After the pictures taken by Middleton was posted on Twitter, several fans joined in to send out messages of congratulations and good wishes. Fans of the Royal Family took time to praise the young Prince, calling him 'adorable' and 'lovely.'
Twitter user, Patrice Curtin, expressed her congratulations to the Royal Family, adding her belief that George and Charlotte would be great siblings just like William and Harry have been. 'So perfectly beautiful,' she added.
Similarly, Julianne Wilson wrote, 'He's so adorable! Congratulations to the Royal Family! Happy belated Birthday to Princess Charlotte!'
Lady P took time to alert the Royal Couple to enjoy the family time as the children 'grow up very rapidly.'
Please fill in your e-mail so we can share with you our top stories!