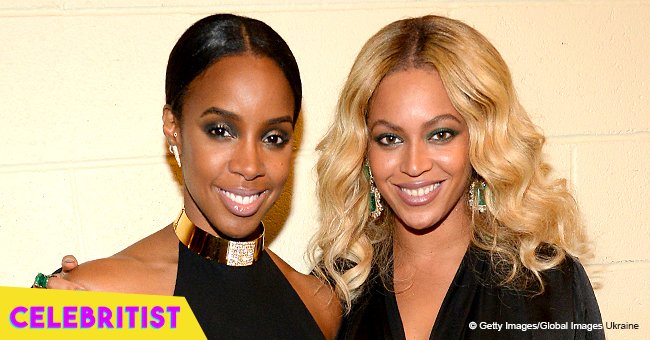 Kelly Rowland melts hearts with video of son singing Beyoncé and Jay-Z song
Another Rowland is destined to be a singer. Kelly Rowland's son showcased his singing prowess in an adorable video where he effortlessly belted out his aunt and uncle's latest song. The singer recently admitted her life took a turn when her son was born and here's why.
Kelly Rowland recently gushed about her son Titan whose birth she admits influenced her entire music career. And just this week, the three-year-old proved he too has a future in music singing verses from Beyonce and Jay-Z's latest song.
The 37-year-old singer posted an adorable video on her Instagram on Friday showcasing her son's rendition of the Carters' new song 'Nice' from their latest album 'Everything is Love.'
"So…this happened today…look what you started Auntie BB and Uncle JJ!", the former Destiny's Child singer wrote to introduce her post.
In the clip, the talented boy who one fan noted looked like Beyonce's daughter Blue, was sitting in his car seat when he obliged his mother who urged him to sing. He began by chanting "Hell nah, hell nah' hell nah, hell nah" then proceeded with "I can do anything." Titan showed how easy it was to belt out a tune despite fidgeting with his toy bus. This comes as no surprise since music runs in his blood.
Kelly recently opened up about Titan's impact on her life since welcoming him in 2014. She described him to the Herald Sun as the greatest thing that happened to her, forcing her to view her life differently.
"Having Titan has made me see myself in a different way. He made me see myself stronger."
She also revealed that because of her son, she wanted to create music he would be proud of.
Kelly currently lives in Australia where she's filming the second season of 'The Voice.' Despite being miles away from her home in Atlanta, the singer reveals her whole family is enjoying it Down Under.
She said that when she was filming the first season of 'The Voice' in 2017 they had so much fun that when they got an invitation to come back for the second season, she quickly said yes.
Kelly is married to her manager Tim Weatherspoon who's also the father of Titan. The couple wed in Costa Rica in 2014 after announcing their engagement in December 2013.
Please fill in your e-mail so we can share with you our top stories!