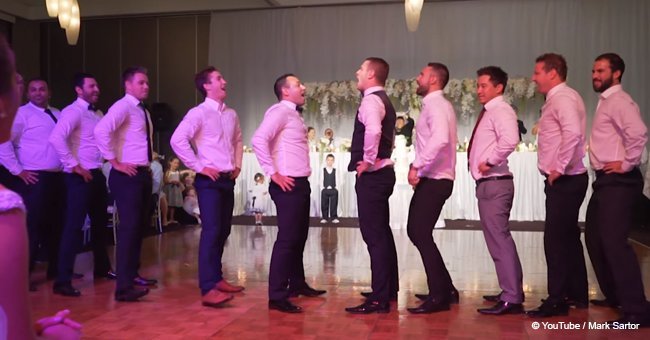 Groom secretly practices dance for months to amaze beautiful bride on wedding day
Prior to their wedding, Mark Sartor spent months practicing the dance routine to surprise his bride.
Published on YouTube on October 14, 2017, the adorable video shows Mark and his groomsmen dancing to several favorite hits during their wedding reception in Australia.
"I came up with this dance as a surprise for my beautiful wife with my mates," according to Mark in the video's description.
Before their big day, he and his groomsmen practiced twice a week for five months, choreographing and rehearsing the dance routine.
"We drank, we ate, and we danced every week. My wife had no idea what we were up to," Mark added. They usually did it in his garage.
Follow us on Twitter @amomama_usa
Mark even blew off wedding preparation for practice. He revealed that his now wife got really annoyed because of it.
However, during their nuptials reception, it's safe to say that she soon forgave him.
"Her reaction is priceless, and my friends are gold! Best surprise," Mark explained.
The footage shows how Mark and his groomsmen shake their hips to several popular songs, including Beyoncé's Single Ladies, Christina Aguilera's Candyman, Ray Charles's Shake A Tail Feather, and PSY's Gangnam Style.
One of the highlights of the epic performance was when Mark flies up in the air.
This performance has to be one of the best groomsmen dances ever, and a lot of netizens praise them.
YouTube user anjylkat wrote: "They all did a great job, but that guy in the tan pants sure did shake his groove thang way more than the others! The groom and tan pants were loose and relaxed while the other two were kinda stiff bless their hearts! Bride's reaction is priceless! Congrats to you two! "
"When the men unbuttoned their shirts. I just died of laughter! It's so cute though," Snowboarding Queen added.
"This is incredible. These guys need to be at every wedding! Fantastic choreography," commented Christine J.
Please fill in your e-mail so we can share with you our top stories!