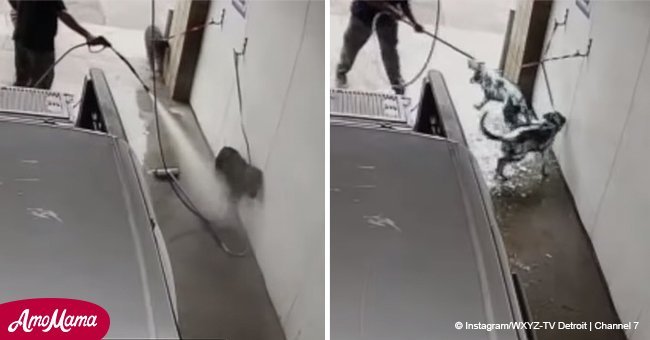 Terrified dogs put through car wash using harsh chemicals attracted community outrage
People were horrified when they learned that a local man had two dogs cleaned at a car wash joint which uses toxic chemicals.
The owner of the Warren car wash was appalled when she saw the two dogs put through her car wash on her surveillance footage, as reported on 7 Action News.
Wash-Stop owner, Nicole Gattoross, said that the two dogs looked visibly "terrified."
Gattoross was out bowling with her family when she was watching the live streaming from her security recording.
She said, "We watched these dogs being covered in chemicals that were for vehicles, not animals – foam brushed, high pressure with up to 110-degree water – it was horrible."
She explained that the high pressure used on the hose could have done severe damage on the two animals. Follow us on Twitter at AmoMama USA for more details.
Detectives working with the Warren Police Department submitted a request to prosecutors to charge the suspect with two counts of animal cruelty, one for each dog. Also, they were looking into the possibility of having the dogs taken from the home of the owner.
The man responsible spoke exclusively to 7 Action News and claimed that it wasn't his intention to hurt the dogs.
Marshall Bullard was apologetic and said it was a "bad judgment call."
He clarified that he understood why people were outraged by his actions but explained that he was only trying to get all the stuff off them.
Bullard shared that he rescued the two German Shepherds from an unknown owner who appeared to have neglected them. He claimed that the dogs' fur was matted with feces.
"I tried the water hose, that didn't work. It popped in my mind to take them to the car wash," he said.
Bullard received a phone call from the police after Gattoross posted the surveillance footage on Facebook.
Bullard was still charged with two counts of animal cruelty even though he gave the dogs to a friend and had them taken to a vet. He showed pictures and paperwork that proved the dogs were healthy and had no injuries.
Please fill in your e-mail so we can share with you our top stories!