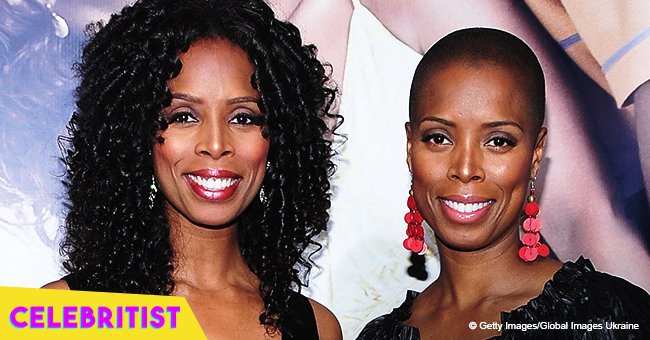 Tasha Smith's famous twin sister glams up in off-the-shoulder dress in pics with Vanessa Williams
Tasha Smith's twin sister Sidra steps out looking glamourous while posing for a photo with tennis superstar Vanessa Williams.
Having been friends for decades, Vanessa and Sidra re-enacted one of their throwback photos with a couple of their other friends for old time's sake. The beautiful ladies used to work on "A Luv Tale", which premiered in 1999. Now that they are much older, they decided to get together and hold a reunion.
"#TBTA Luv Tale now and then... Top left (2018)Sheria Irving, Tanairi Vasquez, Vanessa Williams, Amber Whittington and Sidra SmithBottom left (1999)Tichina Arnold, MC Lyte, Holly Joy, Tisha Campbell Martin, Angela Means, Gina Ravera and Sidra Smith"
While Tasha Smith has been on the spotlight for her bold and loud attitude on movies like "Why Did I Get Married?" and "Couples Retreat", and TV shows like "For Better Or Worse", her twin sister Sidra has been working behind the scenes for quite a while. The more lowkey twin sister works as a movie producer and director in Hollywood.
When they were younger, they had to grow up with their mother who was hooked on drugs. However, they are proud to say that their mom has been clean for over 25 years.
"We are not defined by our mistakes. We are defined by what we are able to overcome."
Sidra was a formal model who moved to Paris at 19, where she worked showrooms for a couple of months prior to residing in Italy. It was in Italy that she landed a contract with an agency, and worked for two years.
After that, she started casting music videos for Dr. Dre in the early '90s, quickly progressing and moving on to assist on feature films. From there, she created her own company called Sidra Smith Casting which focused on ad campaigns and TV commercials.
Her first feature film called "A Luv Tale" was an award-winning movie, which featured MC Lyte, Tichina Arnold, and Gina Ravera. The film had an LGBTQ theme, featuring a love story between two women.
Please fill in your e-mail so we can share with you our top stories!