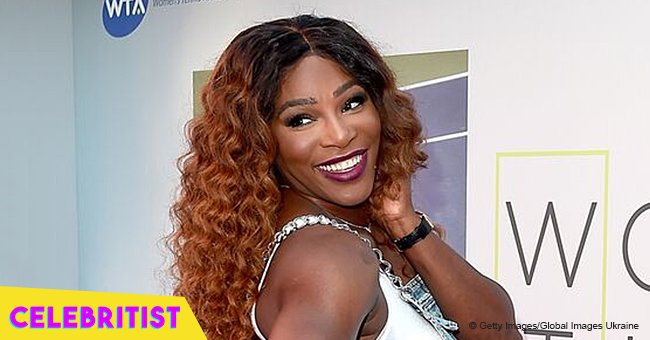 Serena Williams turns heads in denim mini dress from her namesake fashion collection & strappy sandals
The tennis star looked stunning in the purple carpet of the WTA Tennis on the Thames party in London last weekend. Following her passion for fashion, Serena recently released her clothing line, and she's been rocking her designs left and right.
Serena Williams had to retire early from the French Open last month because of a pec injury, but now she's back on track and ready to show what she's made of in the Wimbledon Tournament. On the first day of competition, Williams proved she's not there to play with a 7-5 6-3 victory against Dutchwoman Arantxa Rus.
But before hitting the clay, Williams showed off her designer abilities when she appeared on the purple carpet of the WTA Tennis on the Thames party wearing a mini denim dress from her fashion collection. The bleached outfit featured two adjustable metal straps and at least three pockets for women's comfort. Serena completed the look with a white top underneath and strappy metallic high heels sandals that matched her chain straps.
The 36-years-old athlete had a rough start making her comeback to the tennis court earlier this year. She was away for almost 14 months after having her first daughter, Alexis Olympia, last September, and her absence made her go from the number 1 position to 453 in the world ranking following her hiatus.
But the new mom didn't let that demotivate her, and instead, she has been working relentlessly to prove she deserves the title of the best tennis player in the world. With 23 Grand Slams wins under her belt, Serena is only two more wins away from breaking the record set by Margaret Court.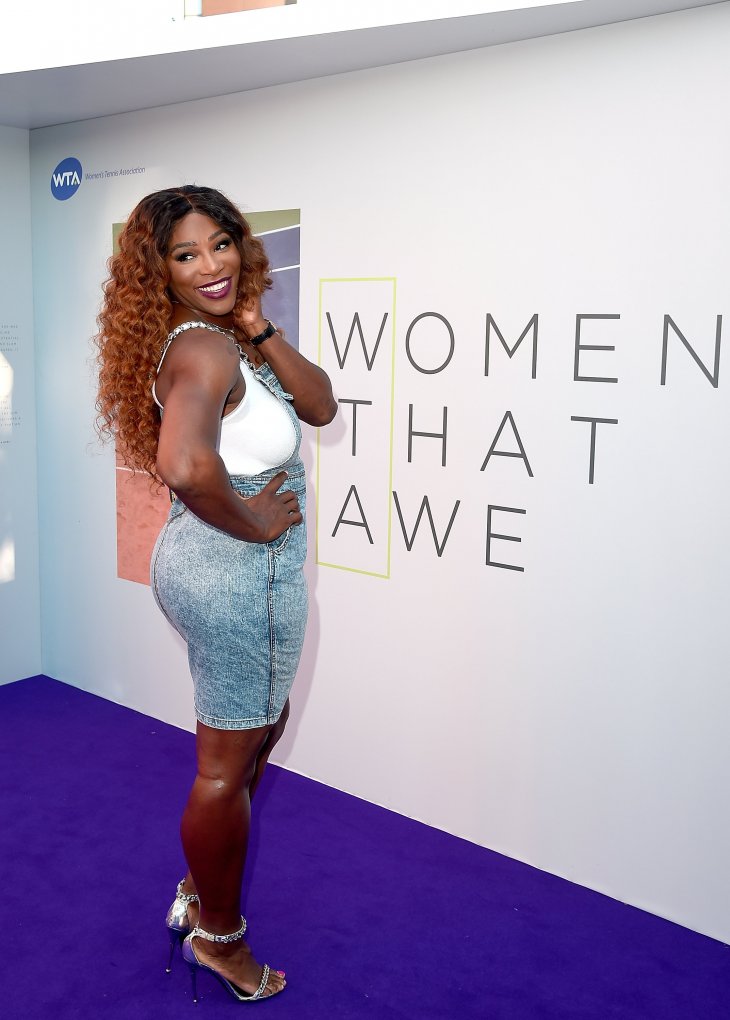 Credit: GettyImages / Global Images of Ukraine
After Olympia's birth, Serena is an entirely new woman. The star recently launched her clothing line, and she confessed through an Instagram post that fashion has always been her second passion, and after years of doubting herself, she finally got the courage to put her work out there.
She wrote a heartfelt and empowering message on Instagram to announce the new line, saying:
"After 15 years of false starts, and people in fashion telling me "no," it only only drove me to work harder. As a result, I discovered what it meant to invest in myself, and I allowed that belief in myself to drive me to reach my dream.

Today, I am proud to launch @serena , my own online shop. Never stop believing in yourself, you're worth it."
Serena admitted to Harpers' Bazaar that her daughter played a significant role in the creative and decision-making process of her clothing line, "Ever since [giving birth to] Olympia I was like, "Okay I have a daughter, I want her to feel good about herself." She is strong already, so I want her to feel beautiful and I want to spread that message through the collection," she said.
Serena is the proof that women can achieve whatever they want with arduous work and dedication, and that being a mom doesn't have to become an excuse not to follow your dreams.
Instead, being a mom should be inspiring, because every woman wants to be the best version of themselves to set an example for their kids.
Please fill in your e-mail so we can share with you our top stories!