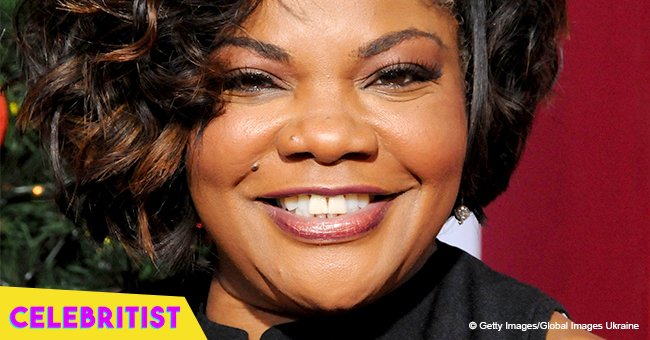 Mo'Nique shows off slimmed down figure in plunging colorful dress
The actress and talk show host has gone on a weight loss journey in the last few months, and has made sure to keep all her fans up to date with her progress and her favorite tips.
Mo'Nique has always been an advocate for loving the skin you'e in, often using the slogan "bigger is better." But a conversation with her husband ended up changing her mind.
Since then, she has drastically changed her diet, and started on a rigorous exercise program that has helped her drop to under 200 pounds for the first time in her adult life.
She recently took to her personal Instagram account to share another photo of herself that highlights the impressive amount of weight she has lost in the past few months.
"Hey my loves. Sisters IT STARTS WITH YOU FIRST. I love y'all to life. THANKS FOR THAT REAL LOVE." she captioned the image.
In the photo, she is wearing a gold dress with a colorful blue, red, and yellow swirling pattern across the entire garment's fabric.The gold backing color even appeared to have a little shimmer in it in the light.
While the item fell to her knees, it also featured a plunging v-neck, and hugged her curves. The dress had cap sleeves.
The actress piled her hair high up on her head, and completed the look with a pair of tan strappy heels.
She revealed that she decided she needed to lose weight after a particular conversation with her husband, Sidney Hicks.
Speaking on The Arsenio Hall Show, she explained that Hicks had asked how much she weighed, when she told him, he had a heartwrenching response for her.
"[He] said, 'Mama, that's too much weight. I want you for a lifetime.' In that moment, I went through embarrassment. I went through guilt. I went through shame, but I had never felt a love like that before. So, that night was when the decision was made: 'I gotta save my life,'" she told the talk show host.
Since the beginning of her weight loss battle, she has posted plenty of her exercise videos as challenges to her followers to her Instagram account to help others who are struggling with weight loss find some motivation.
She originally lost over 100 pounds, before losing even more weight to trim down to under the 200 pound mark.
Now Mo'Nique exercises with a personal trainer 5 times a week, doing plenty of dancing.
She also focuses on her diet, making sure to drink at least a gallon of water a day, avoiding anything fried, giving up red meat, and eating mostly raw fruits and vegetables, and fresh fish.
Please fill in your e-mail so we can share with you our top stories!