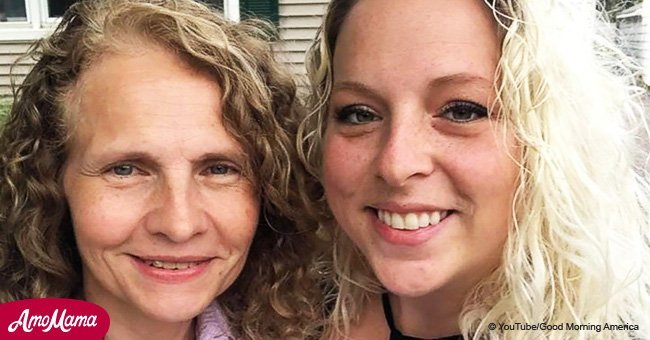 Woman searches for long-lost sister only to learn that they are actually neighbors
A woman who spent more than seven years searching for her long-lost sister discovered that she had moved in right next door.
According to Good Morning America, Hillary Harris from Wisconsin spent seven years searching for her biological sister before realizing she had moved in next door and has been her neighbor for more than two months.
Dawn Johnson and Harris, became neighbors when Johnson and her partner Kurt Casperson moved from Greenwood, Wisconsin, to Eau Claire and purchased a home next to Harris, sharing the same driveway and the television station.
Harris received her adoption information from Catholic Charities six years ago and it was then when she learned that the names of her birth parents were Bonnie Carl and Wayne Clouse.
However, Harris was heartbroken to discover her father had died in 2002. But when reading her late father's obituary, she discovered that she had a half-sister named Dawn Johnson, and started looking for her.
Harris had little luck but then, in June 2017, Harris' husband, Lance, informed her that a woman named Dawn from Greenwood had just moved into the house next door to them in Eau Claire. Read more on our Twitter account @amomama_usa
She admitted becoming suspicious when she knew about that information the first time, but quickly dismissed it, thinking what was the chance that her lost half-sister would randomly move next door to her.
Harris did not investigate her neighbors further until August. The couple was redoing their roof and the name on the shingles at their home read "Johnson," and when Harris read it she immediately started shaking.
"Your name is Dawn Johnson. Were you the Loyal Corn Fest queen in 1983?" Harris texted to her neighbor. When Johnson confirmed she was, Harris followed by asking her father's name.
When Johnson answered Wayne Clouse, Harris wrote, "We have a lot to talk about. Can I call you? Do you remember how I told you I was adopted?" Harris told Johnson, who immediately responded, "You and me have the same dad, don't we?"
Harris described how she and half-sister Johnson have grown close since discovering they were related. "By meeting Dawn I feel like I have all the answers I will ever need. She's the missing puzzle piece I have been looking for so many years," she said.
Please fill in your e-mail so we can share with you our top stories!