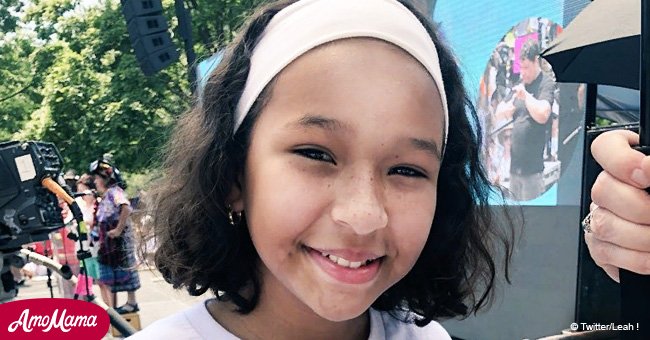 12-year-old's tearful speech about separating children from families has national impact

During the Families Belong Together protest, a girl delivered a powerful and emotional speech about the cruelty of separating kids from their parents.
Tens of thousands gathered across the U.S. for Families Belong Together marches on Saturday, June 30, which took place in over 700 locations, including Boston, Los Angeles, New York, St. Louis, and Washington, D.C.
According to CNN, protesters organized around three main tenets: that families separated at the U.S. border be reunited immediately, that the government ends family detention, and that President Donald Trump's administration discontinues its zero-tolerance immigration policy.
12-year-old Leah spoke at the protest in Washington, D.C. and explained her own personal fear at the possibility of her mother being taken away from her thanks to the government policies.
Leah said it was evil for the government to separate children from their parents, whether it's at the border or when someone who has been living in the country for years is suddenly deported. Read more on our Twitter account @amomama_usa
As she delivered her speech, the young activist became overwhelmed with emotion, fighting back tears as she asked: "Don't they know how much we love our families? Don't they have a family, too? Why don't they care about us children?"
Leah then paused to catch her breath and put herself together while someone yelled to her from the audience, "I love you!" and she responded, "I love you more."
Then she wiped away her tears and said it's unfair that lawmakers get to go home to their families while children remain in detention centers.
"I am here today because the government is separating and detaining refugee parents and children at the border who are looking for safety. Our government also continues to separate US citizen children like me from their parents every day. This is evil. It needs to stop," she said.
Encouraged by cheers from the crowd the girl continued: "This needs to change. We cannot allow them to keep hurting families, communities, and children. I know that together we can make things better for families and kids," she said.
One of the most powerful parts of Leah's speech was the moment she referred to her own situation with her mother immigration status.
"I live with the constant fear of losing my mom to deportation. My mom is strong, beautiful, and brave. She is also a person who taught me how to speak up when I see things that aren't fair," Leah told. Thanks for raising your voice.
Please fill in your e-mail so we can share with you our top stories!