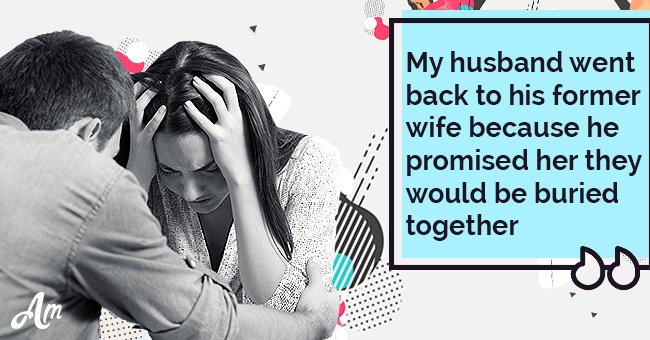 My husband went back to his former wife because he promised her they would be buried together

Dear AmoMama,
I have been married for 15 years and now my husband is leaving me for his ex-wife. I knew he was divorced when we met, and he told me that his ex had dumped him when she discovered he was having an affair.
He told me it was the most awful experience of his life, and that cheating was something he would never risk again. I believed him, and I've never had reason to doubt him. We were happy, I thought we had everything we needed, two lovely children, a good life, a nice house.
Now my husband has come to me to tell me he is leaving me, going back to his first wife. He tells me she is very ill, she has stage 4 cancer and she contacted him, reminding him that they had promised each other they would be there for each other at the end, that they would be buried together.
He tells me she has written out a will in which he gets everything, and she is a very rich woman. He tells me he will come back when she is dead and that we will be set up for life.
I'm absolutely horrified. He is going back to that poor woman, pretend he loves her, so he can have her money? I don't know who he is. He is prepared to leave me and the children for money?
I don't know this man, I don't know what to say to my children, how to explain this to them. I don't even know how to explain this to myself.
I don't think I can take him back after this, I don't think I want him anymore. He tells me I'm being irrational and it's all jealousy. I don't know what to think or what I feel anymore. Am I being unreasonable?
If you need help or advice, reach out to us, and thousands of women just like you who are struggling with the difficulties of life. You are not alone, we are here for you, and we listen; so write to us anonymously using this form.
Please fill in your e-mail so we can share with you our top stories!