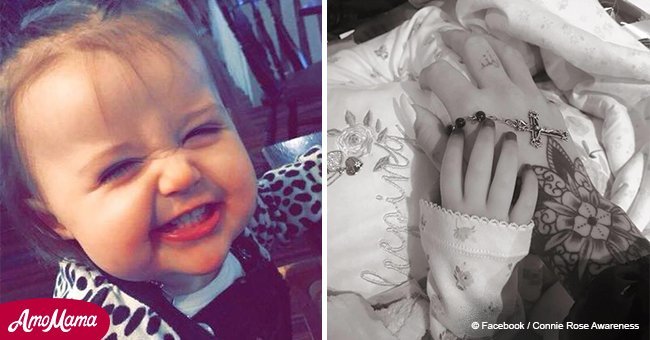 Mom put little daughter down to sleep, but found her lifeless in the morning

In an unforeseen tragic event, a seemingly harmless toy took the life of an 18-month-old girl from Scotland.
For Dexy Leigh Walsh, from Dundee, Scotland, it was just another morning going to wake up her girls for school, but opening their bedroom door brought a horrific tragedy in their little household.
18-month-old Connie Rose, youngest of the family, was found on the bed, suffocated to death by a 3-foot tall teddy that fell over her. Walsh, a young mom of only 23, was devastated by the tragedy.
But she now wants her story to be shared as much as possible so that another such misfortune can be avoided. She shared her painful story on her Facebook page, urging people to share and spread awareness on the issue.
Read more about Dexy Leigh Walsh on our Twitter account @amomama_usa.
Her emotional yet encouraging post described the events that unfolded that day in great detail, despite being written over a month later. Walsh displays courage by choosing to use her tragedy to help other parents in their quest of parenthood.
She placed the blame on herself for putting the toys on the bed. She reminisced how her daughter brought joy and life into the household, and how everyone was still heartbroken at her death.
Little Connie Rose's bed was pushed up against the wall on one side, and though there was a bed guard on the open side of the bed, Walsh wanted to protect the baby from the tiny gap between the bed and the wall.
To cover the gap, which was barely a few centimeters wide, her mother placed the entire side with various stuffed toys, and the biggest one ended up near the head of the bed.
Admittedly, the toy did protect the kid from hitting her head against the wall, but the weight of the stuffed animal became too heavy for the toddler and ended up smothering her to death.
Welsh recounted with grief, which had she not placed the toys on the bed, Connie Rose would have been by her side, with just a few bruises on her.
Please fill in your e-mail so we can share with you our top stories!