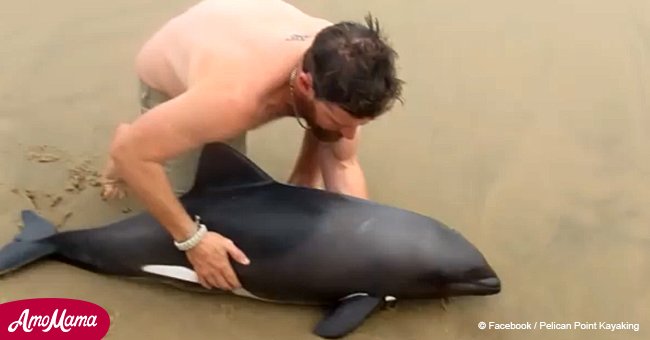 Man spotted helpless beached dolphin and instantly rushed over to help
When Naude Dreyer saw a beached dolphin, he courageously picked it up even though it kind of looks like a baby killer whale.
In 2016, Dreyer, the tour guide of Pelican Point Kayaking, was leading a group along Walvis Bay in Namibia when he found a Benguela dolphin on the beach.
Dreyer immediately sprang into action. He picked up the beached dolphin and carried it back to the ocean.
The dolphin was still as he walked it out into the surf at first. Then, it wiggled its tail and took off into the water.
Follow us on Twitter @amomama_usa.
"On our way back from tour this morning, we came across this juvenile male Benguela Dolphin, still alive on the beach," he wrote in a Facebook post.
"It's not clear how he ended up on there in the first place. After a quick assessment and measurements, I attempted to get him swimming again."
Dreyer added: "I was not very hopeful, but as soon as he got into the water and realized where he was he took off like a bullet. Nice."
The tour guide planned to keep an eye out for the baby dolphin because a lot of animals beach themselves again after being rescued.
"I'll do a drive past the same area again later just to make sure he hasn't returned again," he wrote.
In an interview with The Sydney Morning Herald, Dreyer said that he isn't sure how the little dolphin ended up on the beach.
"I was just doing what was the right thing to do," he said. "I couldn't leave him there."
According to marine biologists, Dreyer made the right call.
A researcher at the Hawaii Institute of Marine Biology, Kim Holland, said that putting the dolphin back in the ocean is the best thing to do.
Holland told The Huffington Post: "Certainly, even though the chances may be slim, they have a better chance of survival if they are put back in the ocean than if they are left stranded."
Please fill in your e-mail so we can share with you our top stories!