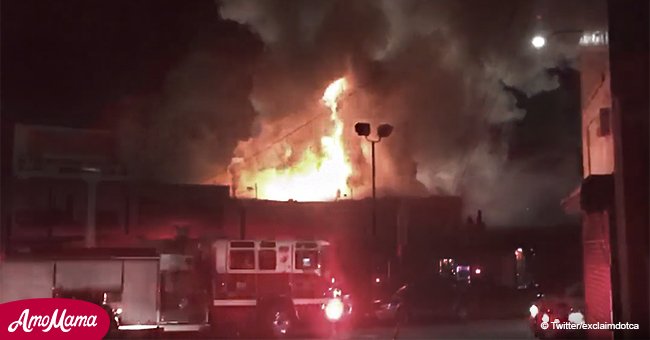 Two men face prison for 'Ghost Ship' fire that claimed 36 lives
Two men accepted plea bargains with prison time after each of them was charged with dozens of counts of involuntary manslaughter.
Derick Almena and Max Harris each pleaded no contest Tuesday, June 3, to 36 counts of involuntary manslaughter in connection with the December 2016 fire at the illegally converted Oakland warehouse called the Ghost Ship.
Prosecutors say Almena rented the warehouse and illegally converted it into a residence and entertainment venue. Almena hired Harris to help collect rent and schedule concerts, as reported by the New York Times.
Fire investigators have not been able to determine a cause for the building fire but found that the place was not equipped with sprinklers or an automatic fire detection system. It is suspected that the fire may have been caused by electrical issues.
Prosecutors say the two defendants turned the warehouse into a 'death trap' by filling it with highly flammable materials, including tapestries on the walls and a makeshift stairway made of wooden pallets, and blocking the few exits in the poorly lit building.
Almena and Harris lived in the two-story warehouse with about 20 other people, including Almena's wife and their young children. The building had no city permits for residency or for the concerts and shows held there.
Both Almena and Harris were charged with 36 counts of involuntary manslaughter, one for each person who died in the fire. Read more on our Twitter account @amomama_usa
The defendants could have faced up to 39 years each in prison had they been convicted at trial of all the charges. They were arrested in June 2017 and will get credit for the year they have spent in jail.
In exchange for no contest to the charges, Almena, the Ghost Ship's master tenant, will be sentenced to nine years in prison, and Harris, the artist collective's executive director, will be sentenced to six years.
They likely won't serve their whole sentences due to time served and good behavior. Both men are only expected to serve half of their sentences after spending a year in jail.
The 36 victims, ages 17 to 61, died of smoke inhalation. The tragedy was the nation's deadliest structure fire since 2003 when 100 people were killed at a Rhode Island nightclub.
Please fill in your e-mail so we can share with you our top stories!