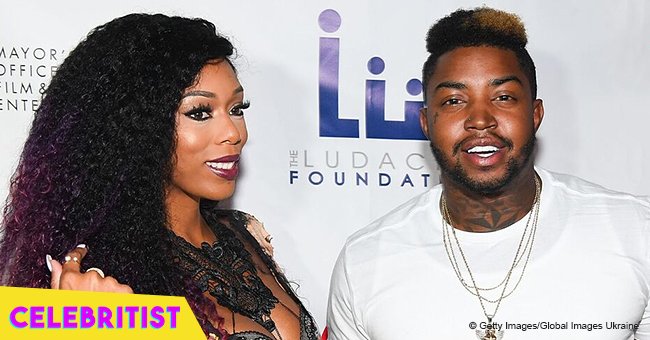 Lil Scrappy melts hearts while gently cradling Bambi's bare baby bump in sweet pic

Since announcing her pregnancy on her 20th week, Bambi Benson has been updating fans on her condition which wasn't all pleasant in the beginning. But new photos reveal the reality star is in a better place as her husband Lil' Scrappy cuddles her baby bump carrying their first child who also happens to be a boy.
Bambi Benson is laying her pregnant belly bare in her latest photo where she's cozying up to her husband Lil' Scrappy against the backdrop of a marina. The couple who announced that they were expecting their firstborn in May was a picture of happy expectant parents in a photo Bambi recently posted which The Shade Room captured.
Lil' Scrappy was seated on a chair hugging his wife's bare belly as she stood beside him wearing a black athletic bra and matching training pants. The pair appeared to be on a balcony overlooking the water and a skyline.
After long speculation, the couple revealed the blessing of Bambi's pregnancy two months ago, confirming the news to The Shade Room. At the time, Bambi was already on her 20th week, and she explained why she kept it under wraps. She said she wanted to wait until her pregnancy was past the critical period having experienced a miscarriage previously.
Following her announcement, the 'Love & Hip Hop: Atlanta' star opened up about her struggle carrying her child during the first trimester. She posted a photo where she's lying on a couch sleeping, explaining her condition and feeling grateful for her husband's support while telling him she didn't appreciate being photographed in her lousy state.
"Been ignoring my friends for months sorry guys it's been a struggle. But I'm soooo thankful for my wonderful husband who has been more amazing than I ever imagined. Thank you Boo... also you're petty asf for catching me napping with a paper towel in my mouth if you see me outside it's because I have to be, so don't take a pic of me looking a mess please. I'm not looking fine and slaying no pregnancy, it's obviously slaying me #icantevenswallowmyownsaliva"
A couple of weeks after their announcement, the couple revealed they were having a boy. Lil' Scrappy was especially ecstatic as Bambi shared a video of the big reveal complete with drum beaters drumming up the excitement prior to the couple finding out. They were surrounded by guests and well-wishers who congratulated them for the good news.
"I cannot believe we are having a boyyyy!!!!" Bambi wrote before adding,
"Thank you God I've never seen my husband sooooo happy!"
There will certainly be more updates from the expectant couple as the birth of their child draws near. Incidentally, here's one from a few days back revealing a sonogram of their child.
Please fill in your e-mail so we can share with you our top stories!