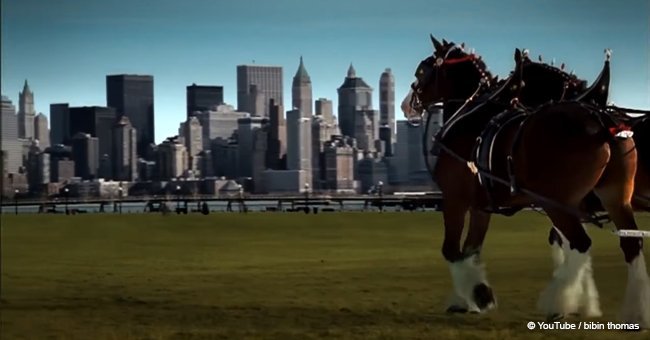 The heartbreaking story behind 9/11 commercial that only aired once
One of the advertisements released by Budweiser Clydesdale made an emotional impact among the viewers when it paid a tribute to the victims of the September 11 attacks.
The advertisement, now available on YouTube, was reportedly broadcasted only once just to honor the victims of the terror attack, and to ensure that the company made no financial benefit out of it.
The commercial aired for one time during Super Bowl XXXVI on February 3, 2002. Although many people might have forgotten it, many others still recall it as one of the most emotional tributes to have come out during those times.
According to WGN TV, to air the commercial, the creative team of Anheuser-Busch had to go through layer upon layers of bureaucratic procedure
Follow us on Twitter to learn more!
They first had to get the approval from members of the Congress, then from the advertising community, and finally from New York Mayor Rudy Guiliani.
Bob Lachky, former executive vice president of Anheuser-Busch Global Creative, told about the shooting procedure, "We had a helicopter going over the Brooklyn Bridge. Mayor Giuliani let us into the city -- the only film company of any sort right after 9-11."
He further explained that it was an amazing feeling to actually come into airspace with their helicopter to film the Clydesdale.
New York city was still going through the hurt and the pain of the attacks. So, to come out with a video that directly addressed the issue was a daring feat.
The St. Louis-based company truly took a great risk by trying to come up with a video that would hopefully heal the pain of one of the worst act of terrorism on the U.S. soil.
The source further confirmed that Budweiser aired the updated version of the commercial during the tenth anniversary of the attacks on September 11, 2011.
Please fill in your e-mail so we can share with you our top stories!