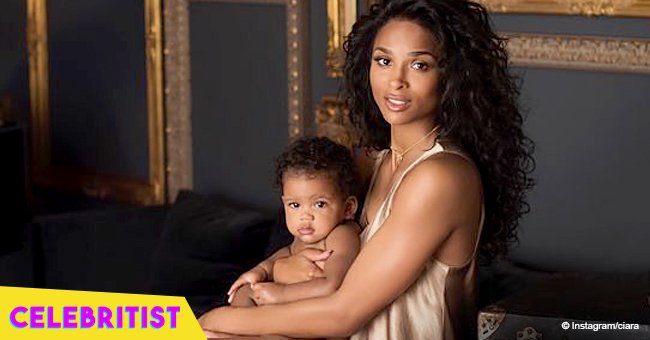 Ciara's 1-year-old daughter melts hearts in traditional Chinese outfit in new vid
The singer, songwriter, and record producer has kept her young daughter moslty private, but recently started to share a few photos of the little girl.
Ciara had been married to her husband, Russell Wilson, for just 3 months in 2016 when they announced that they were expecting their first child together. In April 2017, she gave birth to a daughter who the couple named Sienna Princess Wilson.
While she chose not to share photots of her little princess for the first few months of her life, Ciara decided in February 2018 to post a few photos of her baby for the first time.
And now it's not uncommon to see photos of Sienna on Ciara's Instagram account.
When the star posted her 4th of July message, she chose to feature her daughter front and center in the video.
"Walk with me, love Si Si! Happy 4th All the way from China! @DangeRussWilson #4thofJuly," she captioned the shot.
In the video clip, little Sienna could be seen wearing a red and gold tranditional Chinese dress, with her short curly hair waving in the wind. She toddled down the pathway, looking back at her mother following her with the camera from time to time.
Another video from the same day showed Sienna being walked back up the pathway by her older brother, 3-year-old Future Jr., from Ciara's relationship with her ex-fiance Future.
The adorable little boy kept looking back to make sure his young sister was keeping up and staying steady on her feet, even pulling her back upright when she seemed to be about to fall.
When he helped steady Sienna, Ciara could be heard in the background praising her son for his quick reflexes in saving her.
In a February 2017 interview with Cosmopolitan South Africa, she shared how she and Wilson had decided to remain abstinent until they tied the knot.
"I really believe that when you focus on a friendship, you have the opportunity to build a strong foundation for a relationship — and once you know you're really great friends and you're what we call 'equally yoked,' where you share the same values or the same outlook on life, it kind of sets the tone," Ciara explained. "Knowing that you'll always have the friendship and that you can always go back to it is very important, and very powerful."
Please fill in your e-mail so we can share with you our top stories!