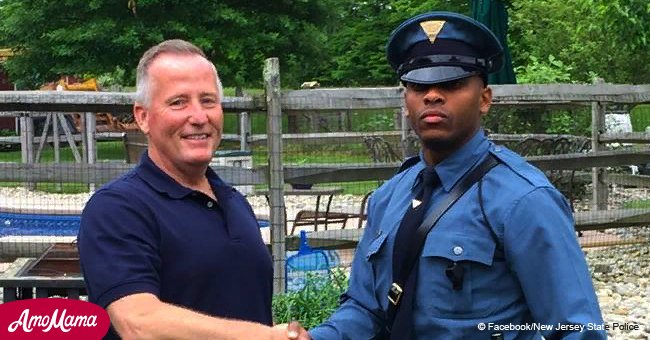 'Divine inspired': Trooper pulls over officer who delivered him 27 years ago
When the trooper pulled a man over for a traffic offense, he had no idea that he was about to have a blast from the past when he realized who the man was.
On June 1, Trooper Patterson was on duty in Kingswood Township, New Jersey, when he pulled Matthew Bailly, a retired police officer, over for a minor motor vehicle violation.
When the two men first started talking, Bailly told Patterson that he used to be an officer in Piscataway. Patterson was from the same town, and shared the strange coincidence with Bailly.
They started talking about their home town, and Bailly asked Patterson where exactly he had lived. When Patterson said the name Poe Place, Bailly instantly knew exactly where it was.
In October 1991, Bailly had been dispatched to a house on that very street where a woman was in labor. At the time, he had been a rookie cop, having been on the force for just 4 years.
He remembered the occasion so well that he was able to describe the house to Patterson, and even recalled that the baby had been named Michael.
It was at that point that Patterson stuck his hand out to Bailly and said "My name is Michael Patterson, sir. Thank you for delivering me."
The men were amazed at the coincidence of having run into one another so many years later under those circumstances.
Speaking to Inside Edition after their encounter, Patterson said, "I think that it was divine inspired. There's no chance that this type of thing, you know, just happens by accident."
Patterson's mother had been shopping when she had suddenly gone into labor, and barely made it home in time, with her husband having to rush out to the driveway to carry her into the house.
When Bailly arrived at the house, a doctor was called to talk the young officer through delivering the baby.
Following their chance meeting, Bailly and Patterson returned to Piscataway for a reunion with Patterson's parents. Both the men's families were ecstatic to hear that they had met after all this time.
Please fill in your e-mail so we can share with you our top stories!