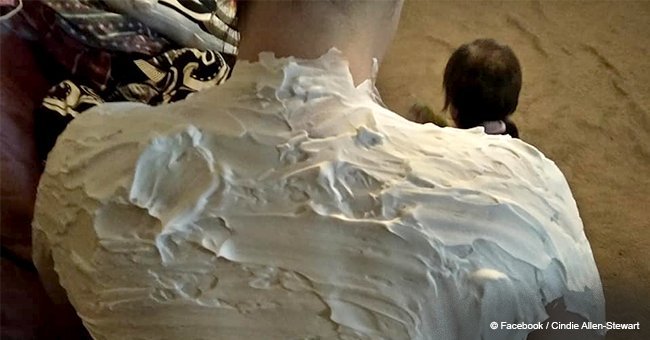 Mom of two reveals miracle cure for sunburn and doctors say it really works
Cindie Allen-Stewart has shared her miracle cure for getting rid of sunburn in 30 minutes, and according to the doctors, it works.
On June 23, 2018, Allen-Stewart, from Texas, took to Facebook to reveal her home remedy treatment for sunburn.
"If you're like me, you hate getting sunburned. No matter how much sunscreen you put on, some people just burn anyway. I recently told a friend about a sunburn treatment that works wonders!" she wrote.
Allen-Stewart discovered the sunburn treatment from her husband. His mother used to do it to him when he ended up with sunburn
Follow us on Twitter @amomama_usa
"First, buy you some Menthol foam shaving cream. It has to be the foam and it has to have menthol in it," she wrote.
"We found Gillette shaving cream on Amazon since we had problems finding menthol foam in stores. We ended up buying 6 cans of it, but it works out because we live in Texas and sunburns happen a lot."
Allen-Stewart added: "Next, apply the shaving cream on the burn. It may seem like it's a strange shaving ritual, but trust me! Don't rub it in, just let it sit on your skin.
"It will start bringing all that heat out (you'll be able to feel it). You may feel like you are itchy too, but that's a good thing! Itching means healing."
Allen-Stewart said that after 30 minutes, the shaving cream seemed to dissolved in spots and feel dried out.
"You will feel as if you're becoming a little cold, at least on the sunburned part of your body. THAT IS A GOOD SIGN!" she wrote.
"Next, rinse it off in a lukewarm or cool shower or bath. It's just to get the residue off. Finally, if you still need it, do it again the next day. Usually after that second treatment, the sunburn disappears."
Allen-Stewart's mother-in-law learned about the home remedy treatment for sunburn from a doctor four decades ago.
The stay-at-home mother said she had tried aloe vera in the past. However, she finds the shaving cream works a lot better.
Please fill in your e-mail so we can share with you our top stories!