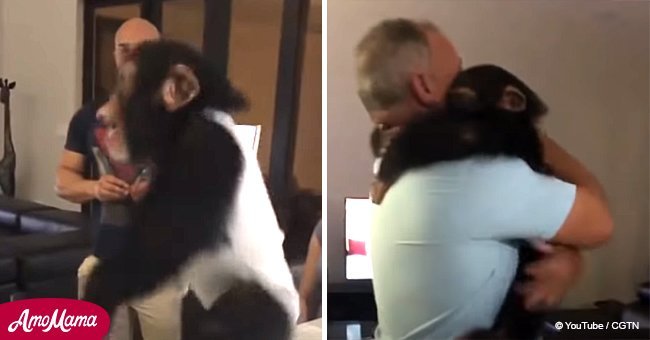 Heartwarming moment young chimpanzee is reunited with 'foster parents'
A chimpanzee named Limbani demonstrated a surprising warmness and excitement when he was reunited with his two foster human parents.
A video uploaded to YouTube by CGTN showed Limbani instantly recognizing Jorge and Tani, the couple who raised him after being abandoned by his mother to die. Limbani had suffered from pneumonia and was left to die alone.
Clearly, he still remembers the kind foster parents, who saved his life and gave him all the care and nurture he required.
In the video, Limbani is first seen drinking through a straw, busy in his usual chores. Suddenly, someone calls his name from behind. The chimpanzee turns around quickly as if he has recognized the voice.
Follow us on Twitter to learn more!
When he sees Jorge approaching him, Limbani can be seen smiling through and through and making highly elevated noises. He then rushes over to Jorge and jumps into his arms, giving him a warm and tight embrace.
He continues to hold Jorge in that stance for quite a while, ensuring that his arms are wrapped tightly around his neck and his legs around Jorge's body.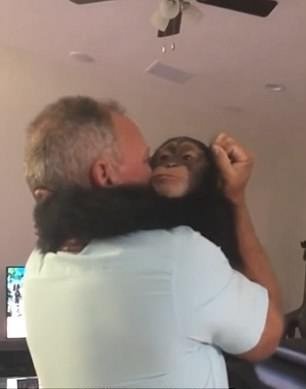 Source: YouTube
Soon after, Jorge's wife, Tania, walks into the room, and Limbani is excited to see her as well. He screams in excitement yet again and reaches out toward her.
It's then Tania's turn to hold the chimp in her arms. Limbani gives her a cuddle while she holds him in a warm embrace.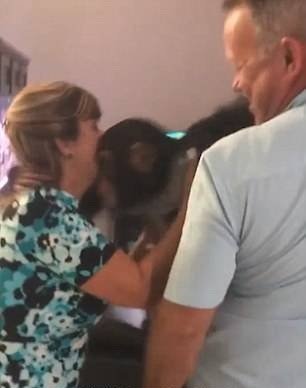 Source: YouTube
According to the description of the video provided, the footage was taken by the Zoological Wildlife Foundation in Miami, who informed that Jorge and Tania helped provide the animal with around the clock care for the first few months of his life.
After receiving special care from the couple in the initial stages of his life, Limbani now stays at the zoo. But he gets to see his foster parents every now and then.
Please fill in your e-mail so we can share with you our top stories!