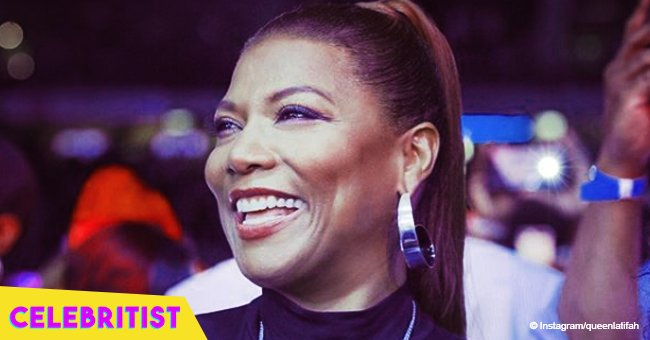 Queen Latifah stops hearts while holding large, bald eagle on her arm in recent pic

Following her mother's death in March, Queen Latifah pays tribute to her mother country in a unique 4th of July post where she's holding a huge bald eagle.
As celebrities marked this year's 4th of July with vacations and family gatherings, Queen Latifah opted to pay tribute to the historic day with an epic post. She knelt on a lawn and looked up in the sky while holding on to a large bald eagle in a photo she posted.
Exclaiming "USA! USA! USA!" in her caption, the Queen was definitely in a patriotic mood as she added an emoji of an American flag at the end.
It's refreshing to see the star in better spirits after having recently suffered the loss of her mother. Rita Owens died in March at the age of 69 after her long battle with a heart problem. At the time of her mother's death, the entertainment mogul paid tribute to her and thanked her for her support throughout her career.
"Anyone that has ever met her knows what a bright light she was on this earth. She was gentle, but strong, sweet, but sassy, worldly but pragmatic, a woman of great faith and certainly the love of my life."
She added,
"I am heart broken but know she is at peace."
A few months later, Latifah was surprised by a fan who approached her at LAX airport and hugged her for her mother's loss. Filled with appreciation, the star whose real name is Dana Owens took to Twitter to thank the thoughtful lady.
"Thank you a lady in LAX airport for asking if you could give me a hug for my Mom. I needed that compassion! I miss her so much right now."
The 'Girls Trip' star accompanied her message with a photo of herself with her arm around her mother which was previously used for a campaign video for the charity of the American Heart Association
In 2004, Latifah's mother was diagnosed with heart failure after passing out at work. Her condition reportedly prevents her heart from pumping blood around the body. Rita was a high school teacher.
Please fill in your e-mail so we can share with you our top stories!