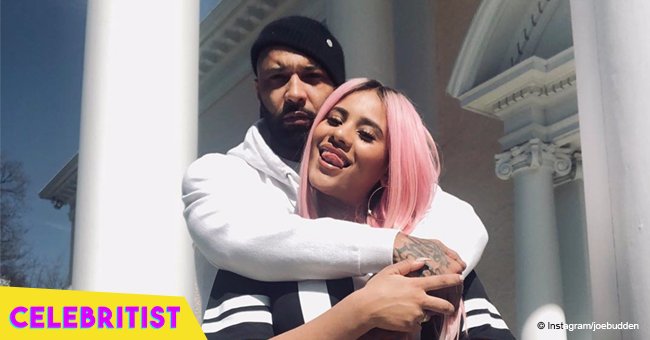 Joe Budden and Cyn Santana's baby boy melts hearts with his big eyes enjoying summer fun
The "Love & Hip Hop" power couple welcomed their first baby boy last December, and they have been sharing his cuteness with fans all over social media ever since. This is Joe's second child, and after having a strained relationship with his eldest for a while, they're now re-building their bond.
Joe Budden and Cyn Santa are one of the funniest couples to have come out of the reality show "Love & Hip Hop." While Santana is joyful and unashamed, Budden remains stoic and more serious about his craft, but Cyn has the power to make him laugh easily.
The couple started dating at the end of 2016 and announced Cyn's first pregnancy late last year with a touching Instagram post. They welcomed their son, Lexington, in December, and the adorable boy has taken over his parents' social media since then.
In of the recent posts made by Santana on Instagram, the adorable tot was captured having a bite of a big watermelon chunk while being held by a woman with tattoos, probably one of Cyn's relatives. Fans couldn't help but admire Lexington's big doe eyes, and they filed her comment section with well wishes and praises for the little boy.
Cyn and Joe were recently enjoying a "baecation," and they didn't take their son with them, probably wanting to rest a little from changing nappies and dotting on the boy.
But even though the couple was away for a couple of days, the 24-years-old new mom couldn't help her excitement after being reunited with her son, as she shared a beautiful pic of the boy wearing a bucket hat and a gray t-shirt with "Baby Bear" embroidered on it, as she wrote in her caption:
"Momma bear back to baby bear @lexingtonbudden."
Little Lexington is not the first son of Joe Budden. The rapper and podcast host has an 18-years-old son, Trey, from a previous relationship.
However, Joe and Trey didn't have a father-son relationship for a while, and after the rapper decided he wanted to be part of his son's life, he was met with rejection and anger from the boy's side.
But Joe knew about those feelings well, because his father did the same to him, so he just kept trying.
These days, Trey and Joe are on each other's lives, and even though the boy made a diss track for his father a few months ago, Budden has been nothing but supportive of his son's career.
Speaking to Ambrosia For Heads about fatherhood last year, Joe said:
"I was an absentee father for so long, so now, for me to be so heavily involved in my kid's life and just talking to him, seeing things through his eyes, his friends, that whole world, it's changed everything. I no longer communicate in the same way that I used to. Like, we need the elder statesmen to kind of be the elder statesmen."
Now, fatherhood is at the top of his priorities, and Joe has made sure to get Trey involved in Lexington's life. The proud dad has shared adorable photos with his two sons together, and we're glad they seem to be a happy family.
Please fill in your e-mail so we can share with you our top stories!