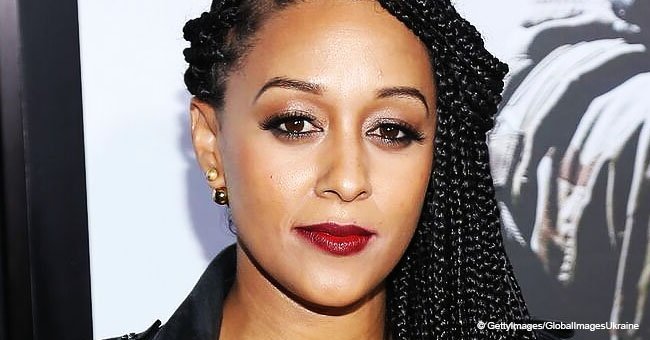 Tia Mowry shares picture of daughter in cute blue dress at 1 month old
It's been two months since Tia Mowry and husband Cory Hardrict welcomed their second child into the world, but only a few weeks since Tia officially introduced the girl to the world. Cairo Tiahna is the cutest baby, and we can't get enough of her.
Tia Mowry is celebrating her 40th birthday on July 6, and just two months ago, she became a mother for the second time when she welcomed a healthy baby girl into the world through a C-section. The glowing mom waited until last week to finally introduce her daughter to the world.
In a special episode of her show "Tia Mowry Quick Fix," the "Sister, Sister" actress revealed her girl's face for the first time, and she's just the cutest baby ever. Cairo Tiahna has been taking front and center on her mother's Instagram account since then, and fans are continually melting with her pics
One of the recent photos shared by Tia shows the baby lying down and looking directly at the camera, something that she seems to enjoy already while wearing a blue dress with figures and shorts of the same color. The baby also has white mittens and is barefoot showing off her cute little toes.
"TBT #cairo at 1 month. Can't believe she's 2 months already :)," wrote the proud mom on her caption.
Tia explained in her video the meaning of her daughter's name, saying that Cairo was Cory's idea. The man was on a flight when he had a spiritual moment and saw the letter "A, R and I" in the clouds, and since being up in the clouds makes him feel close to his late mom, he decided the name had to have those letters. Cairo also means "victorious."
Tiahna, on the other hand, means "Follower of Christ," and is written in that way so that it has Tia's name on it. Besides, the baby has the same initials as her big brother, Cree Taylor, who recently celebrated his 6th birthday.
Mowry praised her son saying he has been taking the whole big brother role seriously, helping her with everything except for changing, or even touching, nappies because he finds it "disgusting." Tia gushed about a particular moment she had with the siblings when Cree jumped on the bed out of nowhere and told her he loves his sister.
Tia and Cory have a beautiful family, and we're glad to know that Cree is embracing his little sister with so much love.
Please fill in your e-mail so we can share with you our top stories!