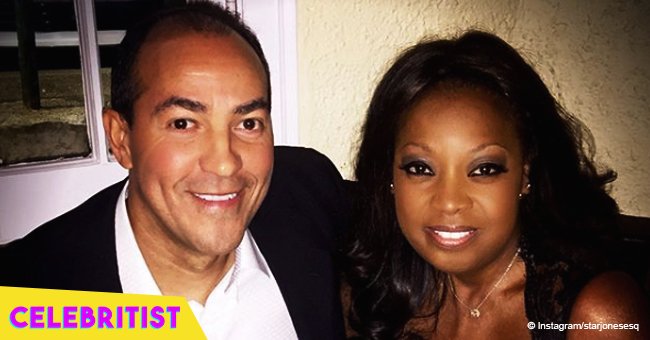 Star Jones reveals loss of 'baby girl' in emotional wedding tribute to her husband
Star Jones marked Father's Day with a touching post celebrating her husband while heartbroken over the loss of their baby.
Star Jones has so much to be grateful for despite admitting to her loss recently. Taking to her Instagram to pay tribute to her brand new husband, Ricardo Lugo on Father's Day, the former 'The View' host thanked him for their son and celebrated the loss of their dog she fondly calls "baby girl."
Star shared a video from her March 2018 wedding along with a commemorative photo from that magical day. She lovingly wrote,
"Happy Father's Day Love Of My Life @ricardolugochicago! I never dreamed I could be this happy, be this content and feel so completely loved. Notwithstanding those absolutely gorgeous diamond earrings you whipped out this week "just because" you thought they would look good on me…your greatest gift to me is without a doubt is the blessing of motherhood. As I said during our wedding vows, "I may not have given Jake the gift of life but life surely gave me the gift of him. I wasn't there for Jake's first steps, but I'll be right there beside you both for all his next steps." This was my solemn vow and promise to you and to Jake then…and I vow it again now."
After paying tribute to Ricardo, Star reminded her husband of their other baby, Pinky, their family dog who had passed away.
"This year has brought us together as a family through our marriage. And although we lost our sweet baby girl Pinky, we both know she saw and felt the same love I see and feel…or she wouldn't have left this earth. She left me in good hands mylove. She left me with her Papi."
But that's not all. The smitten wife continued to gush about her husband with words of appreciation.
"Ricardo. you're so much more than my 'husband.' You're a partner in my life that I value more than you know. You're the father of our son and I've watched how much you love him and he loves you. You're everything I hoped and prayed for as an "equally yoked" man to share my life and help raise a family with. You're my husband, my friend, the love that I'll always need."
In a photo she also shared, Star's husband lovingly kissed her in the cheek as she obliged him dressed in her wedding gown and holding on to a bouquet of flowers. The television star wrote a caption to accompanythe snap.
"From our first Date to our first family vacation to our wedding day and beyond…You bring me Joy @ricardolugochicago! Our vows of love are as true today as they were when we shared them."
Star and Ricardo tied the knot on board a Royal Carribean cruise in the Bahamas. The 56-year-old blushing bride wore a sleeveless white silk Dennis Basogown with a flared skirt and a bow necktie detail. Her groom wore a white blazer over a white shirt and black trousers.
Guests included Beyonce's mom Tina Knowles-Lawson who also shared a snap on Instagram from the lovely occasion.
Star was once married to investment banker Al Reynolds from 2004 to 2008 before settling down with Ricardo, an assistant state attorney she dated for years before their engagement in the summer of 2017.
Please fill in your e-mail so we can share with you our top stories!