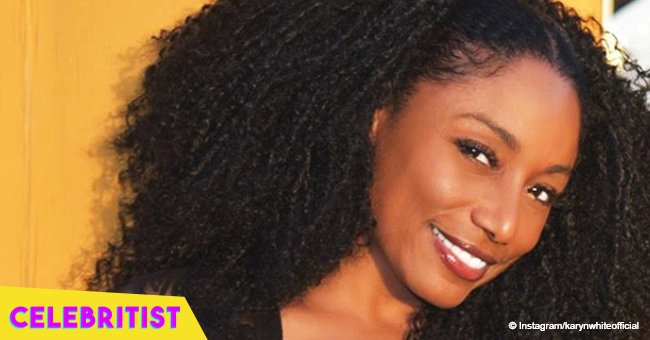 'Superwoman' singer Karyn White looks ageless in plunging plaid flannel in video with family

Karyn White was the name every R&B fan from the '80s would know. She rose to fame for her hit songs "Romantic", "Secret Rendezvous", and "Superwoman". Now, she lives a more simple life out of the spotlight with her children.
After the prime of her fame from the '80s til the '90s, Karyn White took a long break from the entertainment industry. However, in 2012, she made a comeback and released an album called "Carpe Diem/Seize the Day". Aside from her album, she heads her own company named Karyn White Enterprises, and they are looking to produce various film projects.
White entered the scene when she was just 18-years-old, signing a contract with Warner Brothers and Benny Medina. After getting pregnant with her daughter however, she decided to leave the spotlight and for 17 years, privately raised her daughter away from the glitz and glamour of Hollywood.
Despite Karyn being fmaous back in the '80s, she shared with Forbes Magazine that getting back in the industry was really tough.
"It had nothing to do with, I had a brand and I was popular in the 80s. It's the work. I really love the fact that I didn't get to hide behind previous success that I've had."
Aside from getting back to singing and producing her own films, the "Superwoman" songstress has also been trying out acting. She first appeared on "Beauty and the Baller", a TV series in 2017. She also starred in a film called "Gale and the Storm", where she was the lead role.
Like her career, Karyn's personal life has also been quite a roller coaster ride for the singer-turned-actress.She was first married to Terris Lewis from 1991 to 1999, before getting a divorce. White then ended up marrying Bobby Gonzales in 2007, but their marriage only lasted two years.
Karyn is the mother of Audrey, whom she shares with Terry Lewis, and they also adopted a son named Brandon. Now that her children are all grown up, the actress has more time to focus on her career and make things happen for herself once again.
Please fill in your e-mail so we can share with you our top stories!