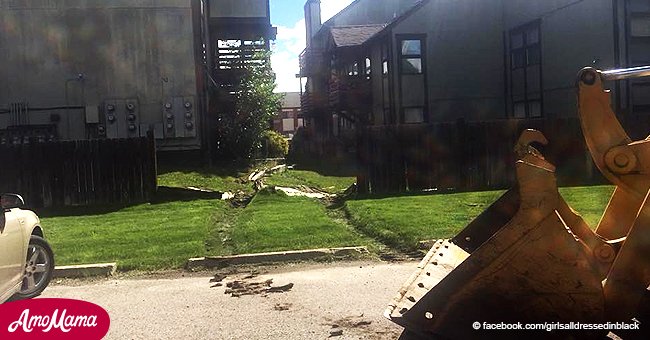 Topless woman drives stolen bulldozer across town to get into apartment for clothes

A half-naked woman stole a front-end loader and crashed through a fence
Truth can be stranger than fiction and that old adage was proved true when a topless woman drove a front-end loader weighing several tons through a fence at an apartment complex in Great Falls, Montana early on Sunday the 1st of July 2018, reported KrTV.com.
The woman was later identified as Heather Houston, 34, who was apparently a resident at the Fox Hollow apartments.
According to witnesses, Houston drove the front-end loader through the fence and damaged a parked car. She crashed into the side of the building and then elevated the front end to the second floor.
Houston then crawled up the machine's hydraulic arm and into an apartment, which is presumed to be her own. She later left, but this time she was fully dressed.
"Woke up to the sound of crunching thinking someone was doing yard work until we hear people yelling, looked out the window and saw this, on and smashing its way in. She then proceeded to climb into her window above us and get clothes."
Molly Broxholm, KrTV.com, 1st of July 2018.
Molly Broxholm, who lives in the complex, woke to the crashing sound and then heard people screaming.
She observed through her window as Houston climbed the front loader, and explained that she appeared to be topless.
Read more about Heather Houston on our Twitter account @amomama_usa.
The Great Falls Police Department responded to a 911 call to the Fox Hollow Apartment Complex where they found the loader which had been stolen from the nearby 3100 block of Rainbow Dam Road.
The police arrested Houston and charged her with felony criminal mischief and felony criminal endangerment.
This is apparently not Houston's first brush with the law. In November 2017, police responding to reports of suspicious activity in Fergus County came across Houston and on checking her identity, discovered that there was a warrant out for her arrest in connection with drug charges.
Houston resisted arrest, and became aggressive, kicking and biting the officers. A search of her purse revealed a glass pipe, methamphetamine, and marijuana.
Houston was charged with two counts of Criminal Possession of Dangerous Drugs, two counts of Assault on Peace Officer or Judicial Officer and one count of Criminal Possession of Drug Paraphernalia.
Why Houston was topless and where she had left her keys is something she has yet to reveal to the investigating officers.
Please fill in your e-mail so we can share with you our top stories!