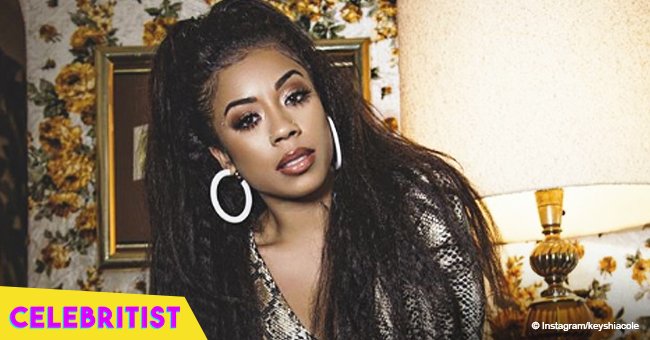 Keyshia Cole drops major bombshell after 'pregnancy reveal' photo
The singer/songwriter and record producer announced that she was pregnant with her second child, only to shock her fans a day later with an unexpected update.
Keyshia Cole took to Instagram on Thursday, July 5, to share the news that she is expecting another baby after giving birth to her son Daniel Hiram Gibson Jr. in March 2010.
In the image, she was wearing a brown and green snakeskin crop top and fitted trousers, with her hair tied back and her long, dark locks cascading over her shoulders.
She captioned the shot: "#PreggoInMyFashionNovaFit #CongradulationsAreInOder @fashionnova," with a number of different emojis, including a purple demon emoji.
Within just hours of sharing the news, the post had over 200,000 likes, and plenty of comments from fans congratulating her.
But just a day later, she took to the social media site to share a surprising update on her pregnancy: She wasn't actually pregnant, just trolling the fans and media who keep commenting on her weight by asking if she's expecting.
"I KINDA APOLOGIZE for #TROLLING yesterday, telling y'all I was ##Preggo !!!! Buuuuuuut y'all need to stop body shaming me and saying I'm PREGNANT EVERY OTHER DAY !!!! Like seriously, it hurts my feelings HEY @fashionnova thought it was sweet that you all were excited about the news tho," she wrote on the photo.
In the photo accompanying the caption, the singer wore a colorful striped crop top, a pair of fitted white pants, and a flat-top red cap. She accessorized with a gold necklace and a pair of white hoop earrings.
Again her hair was pulled back and tied, but still flowing over her shoulders. Cole had on bright purple eyeliner and a glossy lip color. She seemed to be screaming with laughter as she held her arm over her stomach.
Cole is currently dating a much younger Niko Khale, who neither confirmed nor denied the news, only sharing the excited posts of fans who congratulated the couple over the ultimately fake pregnancy.
Cole's son is the product of her relationship with her ex-husband, former NBA player Daniel "Booby" Gibson.
Please fill in your e-mail so we can share with you our top stories!