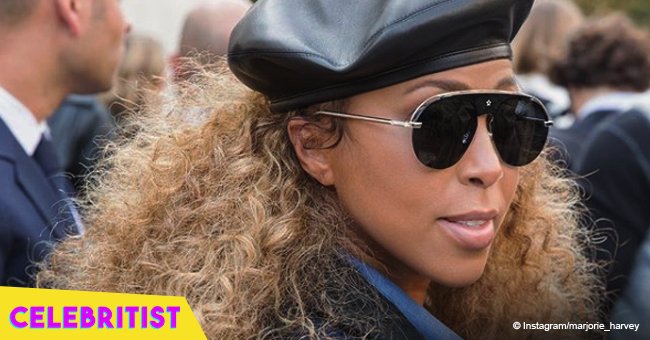 Marjorie Harvey praised after her dad gets into pool for the 1st time in 25 years in video
It's been 25 years since the last time he climbed into a swimming pool, and now a video of him in floating about in the water with some help has earned his daughter plenty of praise.
Marjorie Harvey has always been a proud family woman, taking care of her parents, her children, and her growing brood of grandchildren over the years, and often sharing photos and videos of her family to her social media accounts.
Her father, whose name remains unknown, has recently been undergoing physical therapy as he ages to help him keep his mobility on the up and up.
Now another video she has shared of her father has caught her fans' attention for a very special reason.
In the footage, her father can be seen in the Harveys' swimming pool, wearing a life jacket, floating on the water as he is dragged around by his grandson, Jason Harvey.
"Look at God! It's been over 25 years since my dad was in the pool," Marjorie wrote in the caption of the video.
Within just 3 days, the post had almost 300,000 views, with over 40,000 likes. Plenty of people also dropped by the comments section to remark on how wonderful it was to see.
Marjorie has shared plenty of photos of her father to her Instagram account before, with another recent one also drawing plenty of attention over her sweet little grandson who featured in the picture.
In that image, Jason's son Noah could be seen standing shirtless in front of his seated great-grandfather, who is holding onto him as the image is snapped.
Marjorie also recently received plenty of flak when it came to her parents, after she shared photos of herself in front of her parents' home in Memphis.
Some users seemed horrified by the size and state of the house, and decided to shame Marjorie for not having put them up somewhere better.
While one asked why Steve hadn't bought her parents a house, another suggested it was her responsibility to upgrade the house for them. Yet another person called it "sad" that she would let her mother live like that.
But Marjorie had the perfect response to the critics.
After that, plenty of her fans rushed to her defense, explaining how a home is so much more important than a house.
"One of the best feelings is being home. Every creek in the floor tells a story. Some people may see a house, which is very different from a home," wrote one follower.
Please fill in your e-mail so we can share with you our top stories!