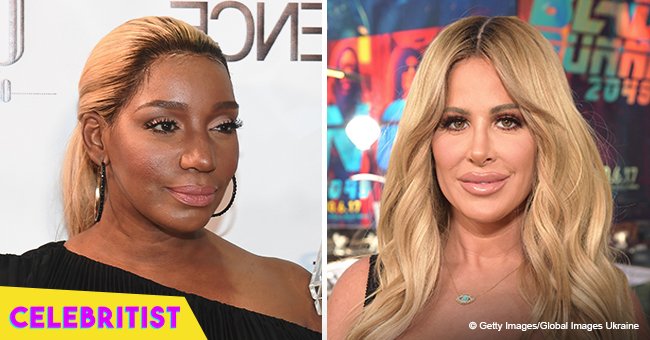 NeNe Leakes shows off Kim Zolciak's emotional gift following her husband's cancer diagnosis
Despite their very public feud on "Real Housewives of Atlanta," it seems like not everything is lost between Nene Leakes and former friend turned enemy, Kim Zolciak, after all these years. The "Don't be Tardy" star showed her support for Leakes after the star revealed her husband's fight against cancer.
Just a few weeks ago, Nene Leakes surprised fans with sad news about her husband, Gregg Leakes. The businessman had been diagnosed with cancer, even though she didn't disclose what type.
Known for her strong personality, Nene declared war to the disease as she fights along the father of her kids for his prompt recovery.
The 50-years-old announced on Instagram that the cancer has been removed but stated that now they had to decide if Gregg went under chemotherapy or not. She also took the opportunity to thank fans for all the support and prayers sent their way.
In the wake of the news, the whole "Real Housewives of Atlanta" family came together to show their support to the Leakes', including Nene's number one public frenemy, Kim Zolciak-Biermann.
Nene wrote in an Instagram post:
"Thank you so much to the ladies I work with and have worked with in the past for sending gifts, love and just good ole words of encouragement @CynthiaBailey10 @kandi @marlohampton @porsha4real @thekenyamoore @PhaedraParks @EvaMarchille @shameamorton @lisawu and yes @Kimzolciak We hope you all know that this really means a lot."
Fans were surprised to know that Kim was part of the well-wishers after all the drama that went down between the two women in the last season of "RHOA." And the surprise didn't stop there. A few days later, Nene shared a now-deleted photo on her Instagram of a care package that Kim sent her way.
The gift contained the books "How Not To Die," "50 Days of Hope," plushy bathrobes, and items from her Zolciak-Biermann's Kashmere Collection. "What can I say other than THANK YOU! Thank you @kimzolciakbiermann for your thoughtful gift! Opening your box is like Christmas! Just all kinds of goodies," Nene wrote in her caption.
The action left fans wondering if Leakes and Zolciak have officially buried the hatch now or if this was just some kind of truce for Gregg's health condition.
For those who don't remember, Kim and Nene were good friends at the start of "Real Housewives of Atlanta" back in 2008. However, their relationship started to deteriorate with time, and the last season of RHOA caused a lot of damage to both of them.
It all started when Leakes accused Zolciak of lying about a heart surgery and other health issues. This drove Kim to seek revenge by sending the rest of the girls of the cast a video that her daughter Brielle allegedly took at Nene's home that showed some bugs in the floor.
Kim reportedly said Nene was "sick and disgusting" for living in a "roach-infested home." Leakes took the comment as a racial attack and proceeded to call Kim and her whole family racists on social media.
Zolciak was outraged by the action and threatened Nene with taking legal actions if she kept slandering her name and her family members.
"It's inappropriate. In this day and age, people are dying over racism. I'm on a show with all African-American women, and I'm the only one that's ever been on the show that's Caucasian, so it's the card that sometimes they play, and it's gross. And I won't allow it," Kim said to Larry King in an interview back in October.
At the final reunion of season 10 of RHOA, Kim and Nene came face to face, and both stars refused the possibility of ever going back to being friends.
However, Kim later apologized through an Instagram post, putting an end to the feud and making Nene responsible for whatever happened next.
Now, both women are focusing on their own families and business.
While Kim works on her reality spin-off, "Don't Be Tardy," Nene is supporting her husband on his path to recovery, as she recently announced she quit meat to support Gregg's new vegan diet.
"Cancer patients rely on support a great deal! With that said, Gregg has switched his diet to Vegan, and I'm supporting his efforts, so I've given up all meat and considers myself a Pescatarian! It wasn't even hard for me! I just said, I'M DONE but I need a little seafood in my life," she wrote on an Instagram post where the couple posed smiling brightly despite their situation.
Please fill in your e-mail so we can share with you our top stories!