Couple sees cop standing in pouring rain to help a little animal
On a stormy day, Carolyn B. R. Hammett and her husband Kevin spotted Police Officer Sharnise Hawkins standing in the middle of the road, helping a turtle.
The couple was driving down the road in Greenbelt, Maryland when they saw Hawkins standing to watch over a struggling turtle.
With a huge smile on her face, the officer was making sure no vehicles hit the turtle while trying to make its way across the street.
"That's pretty much just me," Hawkins told Inside Edition. "I love to smile."
Follow us on Twitter @amomama_usa.
The storms have devastated the area, with significant rainfall causing flooding.
Hammett told Fox 5: "The officer was soaking wet and continued to have a gorgeous smile on her face. It was quite a beautiful experience."
"I couldn't believe that she was standing there guarding that turtle in all that rain. Not many people would do that, regardless of their occupation. She was serving and protecting in every sense of the word."
Hammett's husband, Kevin, soon rushed to Hawkins' aid with an umbrella.
The couple then hurried home to get shovels. They helped move the turtle safely out of the road.
"The officer thanked us and we thanked her and we all went on our way," Hammett told The Dodo.
The news outlet reported that the officer was on her way home from a ceremony when someone alerted her about the turtle.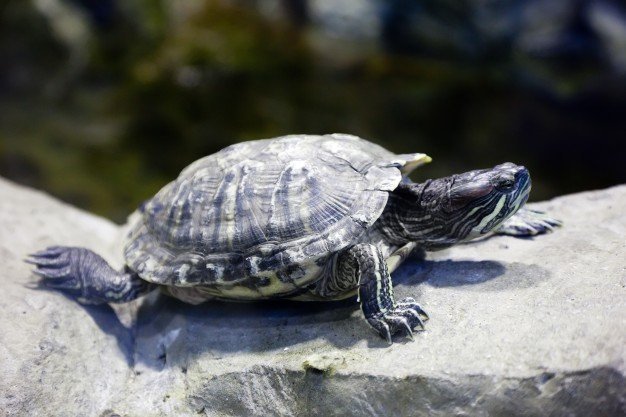 "[Hawkins] was smiling a big broad smile the entire time and she never seemed to care that she was drenched completely through," Hammett said. "She was delightful, inspirational, kind, all the things that you think a police officer should be."
When the Greenbelt Police Department heard the news, they decided to name Hawkins as the 'Officer of the Year.'
"Master Police Officer Hawkins stopped to help a large snapping turtle cross the road after leaving a Honor Guard detail at the Naturalization Ceremony yesterday," the Police Department wrote on Facebook.
"A great big thank you to the Hammetts for stopping to help out! As for the turtle, he made it across the road safely."