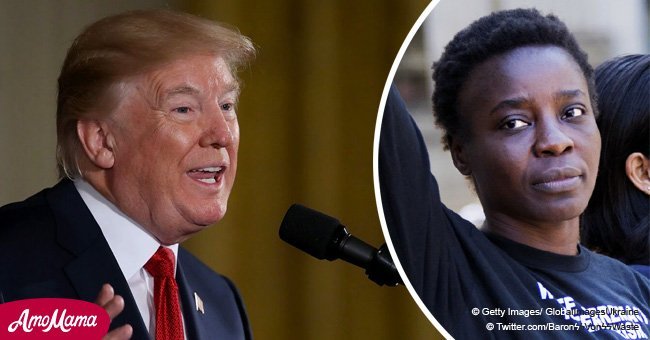 Donald Trump slammed protester who climbed Statue of Liberty, called her a 'clown'
President Donald Trump did not mince words when talking about Therese Okoumou, an immigrant who scaled the Statue of Liberty, and called her a "clown."
Speaking at a MAGA rally in Montana on July 5, 2018, the President was critical of the officers' decision to climb after Okoumou.
Trump opened up about his thoughts, calling the woman who scaled the Statue of Liberty, "a clown." She was protesting his administration's immigration policies.
The President said that the New York Police Department officers should have gotten "some nets" and wait for her to jump, instead of climbing after her to arrest her.
Therese Patricia Okoumou was taken in by the cops after she had climbed Lady Liberty to throw some light on the administration's 'zero tolerance' practice.
Many have voiced concerns against the policy which has resulted in thousands of children getting separated from their migrant parents.
Trump chose to question the authorities' decision to climb after the woman amid roaring cheers from the crowd at the rally.
"You saw that clown yesterday on the Statue of Liberty. You see the guys that went up there? I wouldn't have done it. I would have said let's get some nets and wait until she comes down," he said. He then went on to praise the officers for their efforts.
Okoumou, who was wearing an anti-Trump t-shirt with the words 'Trump Care Makes Us Sick,' created an emergency situation at the Liberty Island after she scaled the 132-year-old statue, reported New York Daily News.
The protestor pleaded not guilty to misdemeanor trespassing and disorderly conduct in a Manhattan courtroom packed with activists.
When a federal judge released the Congolese immigrant without bail after a night behind bars, her sympathizers cheered the decision and she responded by raising her fist and blowing kisses.
The naturalized U.S. citizen said it was a spur-of-the-moment protest over the current administration's immigration policies.
Okoumou revealed that Michelle Obama inspired her protest. Paraphrasing the former First Lady, she said, "When they go low, we go high, and I went as high as I could."
Please fill in your e-mail so we can share with you our top stories!