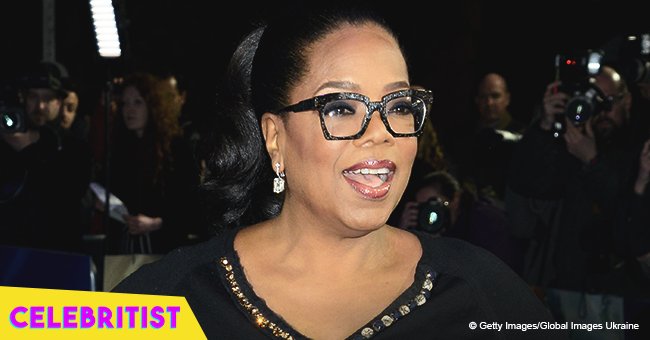 Oprah's 'daughter-girl' turns heads baring cleavage in layered white frock in recent photo
Thando Dlomo, one of the girls from Oprah Winfrey's educational program, has started to make her way into the entertainment and journalism industry after successfully earning a master's degree earlier this year. She stunned on the BET Awards, following Mama O's steps.
When Oprah Winfrey decided to start an education program in South Africa to give girls the opportunity to achieve their dreams, she was visualizing the incredible women those girls would be one day, and Thando Dlomo has undoubtedly surpassed expectations.
The 23-years-old beauty recently had the honor of moderating a panel about the legacy of Nelson Mandela during the BET Awards week, and she also attended the award ceremony looking stunning in a white dress and owning the red carpet with her bright smile.
Thando made heads turn with a ruffled white frock with a deep V neckline that put her cleavage on display. She added color to her outfit with a thick pink and purple necklace and completed the look with strappy heels.
The excited girl showed her gratitude for being able to attend such an important celebration by writing in the caption of one of her Instagram posts:
"Thank you @bet_intl for the experience of a lifetime! Blessed. #BETAwards2018"
The petite lady, who's one of the graduates from the first batch of girls at the Oprah Winfrey Leadership Academy for Girls (OWLAG) in Johannesburg, came to the U.S with a scholarship in 2011. Through the years, she has taken advantage of all the benefits that being Oprah's alumni could offer her to achieve her biggest dreams.
She graduated with a bachelor's degree in communications and a minor in arts from the Johnson Smith University in North Carolina in 2016, and just a few months ago she received a master's degree in Journalism from the University of Southern California. In both occasions, Oprah was there to watch her get the diploma.
Thando has been working as a journalist since she started her career. She was a news correspondent for USC Annenberg and had the chance to interview activists, journalists, directors, including Ava Duvernay, and more, on her path to becoming a Global Media Journalist.
She's also committed to encouraging South African girls to become their best version of themselves, continuing with Oprah's work into making of her country a place where young girls can take charge and become the future leaders of South Africa.
For Oprah, the girls from OWLAG gave her a look into motherhood, and that's why she calls them her "daughter-girls." Most of the students are orphans, having lost their parents to AIDS or any other illness back in the African continent, so they see in the media mogul a maternal figure, and their bond has stretched through the years.
"When most girls come to my school they have suffered six major traumas on average," said Winfrey. "They've lost one parent or both, been sexually abused, physically abused. This is a generation that lost their parents to AIDS. President [Thabo] Mbeki was in office and saying AIDS was not a real disease, and antiretroviral drugs were not provided. There was a time at the school in 2007, 2008, 2009, when we were losing a parent a week. Every week a child was being called in, and we had to tell them, you lost your mom, you lost your dad."
Winfrey's investment in the education of these girls has become her call in life. She pays for everything, from the supplies to the uniforms, and she only asks in return for the girls to pursue excellence and become the owners of their lives.
"It's a patriarchal environment where they come from. Just being a girl makes you less than. I stand before them and tell them there is no bar. There is no ceiling. We're not just going to crack the ceiling; it doesn't exist," she stated.
Oprah is aware that not every single one of her students will become a global leader, an activist or a doctor, but for her is enough if they can be in charge of their destiny and pass that knowledge to other girls too.
"I want you to be president of your own life," she tells the girls. "You be the greatest CEO of your life that's possible. Your happiness and your fulfillment is what makes you successful."
Thando, like many other OWLAG girls, is just starting her journey, and we wouldn't be surprised if she becomes the next Oprah Winfrey. She seems to have the same spark and intelligence as the woman she calls Mama O.
Please fill in your e-mail so we can share with you our top stories!