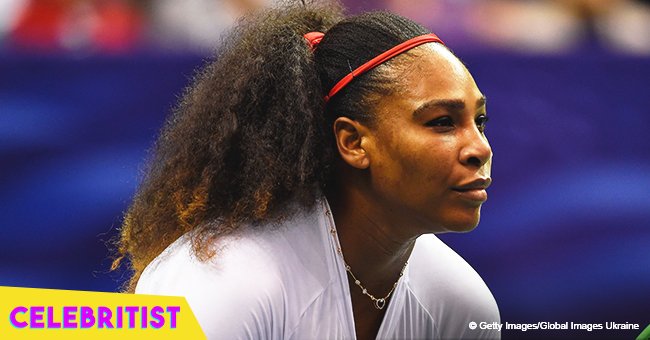 'Battle of the moms' headline for Serena Williams' tennis game sparks major criticism
It seems like these days people are most interested in Serena William's life as a mom than her involvement in the tennis court. A Canadian newspaper is currently under fire for sharing a headline that Serena's fans consider sexist and inappropriate for "diminishing the player's worth to just being a mom."
In the wake of Serena Williams' game against Russian Evgeniya Rodina on Wimbledon, The Global and Mail, a Canadian newspaper, shared an article from the Associated Press titled "Serena Williams to play Evgeniya Rodina in battle of the moms at Wimbledon." The piece, written by Howard Fendrich, focuses on the rise of tennis players that have become mothers in the past years.
"When Serena Williams steps out on Centre Court to play Evgeniya Rodina in Wimbledon's fourth round on Monday, it will be a rare meeting of Mom vs. Mom," says the article. "Such matchups could happen with greater frequency as parenthood becomes increasingly popular on the women's tennis tour."
Fendrich's goes on to mention all the playing moms that have taken part in the recent tennis tournaments, and quotes Kathleen Stroia, WTA senior vice-president for sports sciences and medicine, naming some of the Grand Slam champions that had kids at the time of their victory, like Margaret Court. Evonne Goolagong and Kim Clijsters.
The article's focus is to try and shed light on the struggles that female tennis players have to face in the sport. It mentions the lack of childcare facilities in most of the tournaments and the fact that there's not a rule that protects the player's rankings as they stay away from the game while on a maternity or sick leave.
However, the story is being shared with some questionable headlines by most media sites making it a "battle of moms" situation. This sent Serena's fans on a rage, calling out the different sites for being sexist and diminishing the female players' worth.
The AP said in a statement to the Huffington Post that "customers frequently put their headlines on top of AP stories," making clear they're not taking responsibility for the mess.
Other headlines that accompanied the syndicated article were "Serena Williams-Evgeniya Rodina Wimbledon match will feature two moms," by the Star Tribune. "Wimbledon: Williams vs. Rodina is matchup of moms," by the Santa Cruz Sentinel, and "Williams vs. Rodina is matchup of Mom vs. Mom at Wimbledon," by The Washington Post .
Read some of the tweets by upset fans below:
Serena won to Rodina in a 62 minutes game on Monday, and she secured her place at the semifinals by defeating Camila Giorgi 3-6 6-3 6-4 on Centre Court on Tuesday.
She will meet Julia Goerges on Thursday to compete for a spot in what will be her 10th Wimbledon final.
Please fill in your e-mail so we can share with you our top stories!