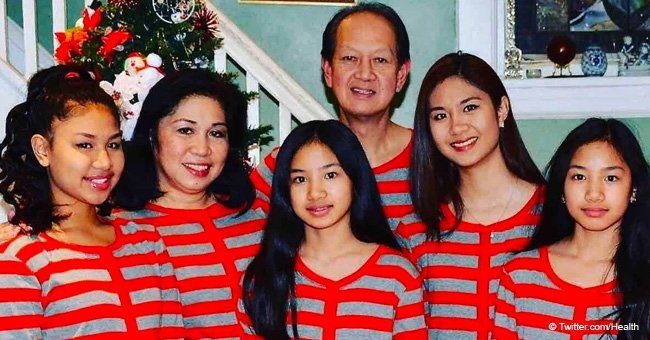 Mother recovering in hospital learns that she lost entire family in an accident

The family was involved in a serious road accident with another vehicle, and the mother was recovering in hospital when she was told that she had been the sole survivor in her car.
Mary Rose Trinidad had been traveling northbound on a Delaware highway on Friday afternoon, July 6, with her 61-year-old husband, Audie Trinidad, and their four daughters, 20-year-old Kaitlyn, 17-year-old Danna, and 13-year-old twins Allison and Melissa.
The family had enjoyed lunch out, and were traveling back home to Teaneck, New Jersey, when another vehicle, a Ford F-350, crossed the grassy median from the southbound lanes and slammed into their vehicle.
Sadly, Audie and all four of his daughters were declared dead at the scene, while Mary Rose was rushed to a nearby hospital to be treated for serious injuries.
At the time of the accident, Mary Rose and Audie had been properly restrained, but not one of the four girls was.It is unknown at this time why the F-350 strayed into the oncoming traffic and continued to drive.
Mary Rose later woke up in hospital following multiple surgeries to fix her injuries, only to be told that her entire family's lives had been claimed in the accident
Daniel Trinidad, Audie's brother, spoke to People Magazine following the accident about the awful loss the family has suffered with their deaths.
"I live in Miami and when I came here everyone on the street said Audie was the sweetest and nicest neighbor," he said. "This is his legacy. He was full of love and compassion. Classmates came over to pay their respects and were just sobbing. They said that the girls could never say no to someone who needed help. They didn't know the definition of no. It's so heartwarming. My brother was so well loved."
Three days after the accident, on July 9, Mary Rose was awake and off medication long enough to let the horrible news sink in.
"She wasn't on medicine then so she wasn't groggy and was able to cry," said Daniel. "She said it was finally sinking in that they're gone forever. She said, 'Now I'm by myself' and I said, 'You're not alone. We're here.' It's going to be painful for her, emotionally and physically. We will give her a lot of love."
The family plans to hold off on the funeral until Mary Rose has recovered enough from her own injuries to be able to attend the services for her family.
Please fill in your e-mail so we can share with you our top stories!