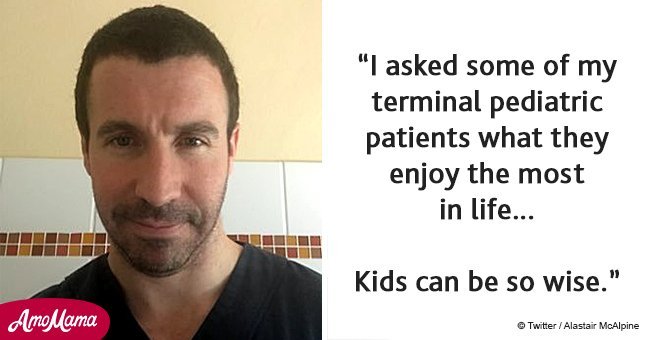 Terminally ill children share what they love most about life
Dr. Alastair McAlpine, a palliative pediatrician, conducted an experience to see if terminally ill children can reflect on the meaning of life.
The doctor from Cape Town, South Africa, took to Twitter to share some responses he received from the 'wise' patients in the pediatric palliative care.
Dr. McAlpine posed some serious philosophical questions to his patients as part of an assignment. He asked them what they enjoyed about life, the people around them, places, and things.
Read more on our Twitter account @amomama_usa.
The children, aged between four and nine, gave some inspirational answers and advice. McAlpine decided to share the things he learned from his patient.
He posted the results of his research in a Twitter thread on February 1, 2018. He hoped that their responses inspire the adults to forget the unnecessary and focus on things that matter the most.
None of the children McAlpine surveyed said they wanted to spend time watching television or browsing the internet. He also wrote that they did not enjoy being in the hospital or fighting with others.
Many of them revealed that they loved playing with their pets. One child said, 'I love Rufus, his funny bark makes me laugh,' while another said, 'I love when Ginny snuggles up to me at night and purrs.'
Most of them also had good memories of playing at the beach and building sandcastles. They also loved toys, ice creams, and hearing stories.
For most of the children, kindness was more important than any other virtue, the doctor wrote. He said the little ones loved people who made them laugh.
They also were concerned about the adults around them. Many hoped their parents were able to cope with their deaths.
Quite a few also wished they had spent less time worrying about what people thought of them and remembered those who treated them 'normally.'
It included friends who visited them in the hospital without a care about hair that had fallen or scars from surgery.
The pediatrician wrote that for the children spending time with their families was more important. He summed up his interaction saying, 'Be kind. Read more books. Spend time with your family. Crack jokes. Go to the beach. Hug your dog. Tell that special person you love them.'
McAlpine's thread has gone viral. It has been retweeted more than 96,000 times and was liked by more 157,000 users.
Please fill in your e-mail so we can share with you our top stories!