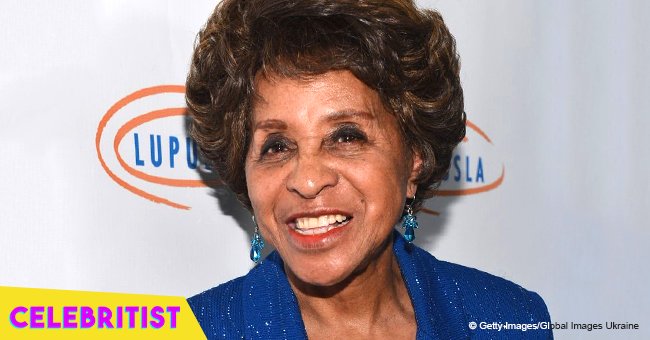 Marla Gibbs glows in metallic outfit in throwback picture with Dave Chapelle

Marla Gibbs is grateful to have worked with comedian Dave Chapelle who walked away from his show more than a decade ago and is now facing criticism for his new stand-up specials.
'The Jeffersons' star Marla Gibbs takes a moment to reminisce about her own moment with Dave Chapelle. Back in June, she posted a throwback photo with the now highly criticized comedian thankful for the opportunity to have worked with him on his show.
Revealing how pleasant the funnyman was then, she wrote,
"I'm glad I got to work with Dave Cappelle on his show. He treated me and my family so nice when we flew to NY to film. We had no idea he'd be leaving for Africa and canceling season 3 shortly after!! Glad to see he's doing great. #chappelleshow #davechappelle#lostepisodes #betruetoyourself"
The photo shows a beaming Marla in a metallic outfit as she stood closely to the famous comedian.
In 2005, the 'Chapelle Show' abruptly ended while filming its third season when Dave decided to walk away and jet off to South Africa. Unclear what his reasons were, he reportedly turned down Comedy Central's $50 million contract for the third season. More than ten years later, the 44-year-old opened up about what really happened back then. He told 'CBS This Morning' he struggled with fame and explained why he left the show.
"Fame, yeah, but not so much that I get on a plane to Africa. Fame is not that kind of scary. But it is — fame is a horrifying concept when it's aimed at you, you know? At the end of the day, it's so — you don't have that much control over it. You just try to conduct yourself as best you can.
"Chappelle's Show's' like breakin' up with a girl and you still like her. But in your mind you're like, 'That bitch is crazy. I'm not goin' back."
He also revealed he was a changed man after leaving the show finding more time to be with his family and take care of himself.
"It was just, like, the way that I engaged the world was different."
Now that he's back, not with Comedy Central, but with Netflix where he released two new stand-up specials, 'The Bird Revelation' and 'Equanimity,' it seems Dave has engaged with the world alright, but not in a way that many appreciated. The comedian has been facing backlash over a joke he made about Louis C.K's "Me Too" moment. However, he defended himself on 'PBS Newhour' and made no apologies for his brand of humor.
"I don't think people pay money to see a guy speak precisely and carefully," Chappelle said. "I don't think they want to pay to see somebody worried about the repercussions of what they say. They just want to see someone try to get at something honest, or maybe something relatable, or have some fun with something."
Here's a clip from that interview.
Please fill in your e-mail so we can share with you our top stories!