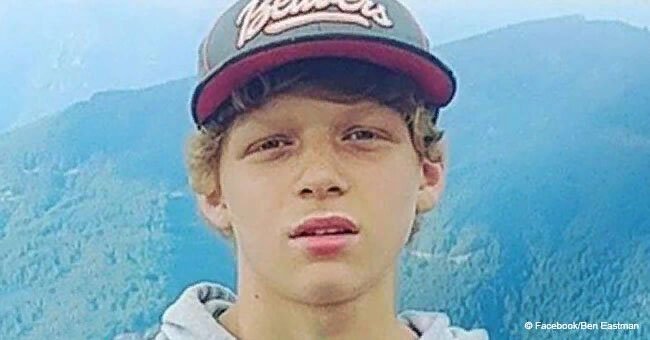 Father of boy found buried in the woods talks about possible motive
On June 28, Benjamin Eastman III was found buried in a shallow grave. He had been assaulted and stripped naked by his assailants.
Now, according to People, his father, Benjamin "B.J." Eastman Jr. has opened up about the possible motive for the brutal killing. B.J. suspects that his son was murdered because of a girl.
Benjamin "B.J." Eastman Jr. last saw his son, Benjamin Eastman III, 16, alive when the two were relaxing around a fire on a cool summer night in rural Randle, Washington. This was less than a week after celebrating Benjamin's 16th birthday.
The pair laughed together over B.J.'s poor performance while playing one of Benjamin's favorite video games, Rocket League. The father decided to head to bed at around midnight.
For more on this story go to our Twitter account @amomama_usa. Like always, he told his son he loved him and the teenager reciprocated the sentiment.
On June 24, the next morning, B.J. woke up to find his son gone from their house. However, this wasn't unusual for the teenager.
B.J. thought his son had gone over to stay with his best friend, Benito "Benny" Marquez, 16. The two had been friends since kindergarten and spent a lot of time together.
Benjamin even had his first sleepover with a group of friends at Marquez's house. B.J. shared that he felt safe when his son was with his friend.
"The place in my heart that makes me want to be good and loving, I call that place 'Ben' now, and that's where I'm making all my choices. That's what my son would want"
Benjamin "B.J." Eastman Jr., People, July 10, 2018
Marquez was a football player who was quite strong. His strength made B.J. comfortable knowing his son would be safe with him.
However, within a few days, the father learned that his son was actually missing. On June 28, the boy's body was found buried in a shallow grave in a lonely stretch of local land.
The dirt covering his body was marked by a homemade cross of sticks. The next weekend, authorities took Benjamin's suspected killers into custody.
Murder charges were brought up against both Marquez and Jonathon Adamson, 21, who was described as Marquez's brother. The two suspects are set to return to court on Thursday.
They are accused of luring Benjamin to his death in an excruciating, pre-planned beating and sexual assault. His remains were hidden on property belonging to their relatives.
Prosecutors believe that the teenager was dead by the morning after he left his house. B.J. was stunned by Marquez's arrest saying, "I never thought he could think up so much hate and pull something off like this."
Prosecutors have said it's premature to discuss a motive in the murder case but B.J. shared that he believed his son might have been killed over a girl. Early on June 24, just hours after B.J. went to bed, Benjamin texted with Marquez.
His last message said he was heading to his friend's house. Authorities believe Adamson and Marquez used the "guise of a camping trip" to bring Benjamin out in order to assault him.
Adamson's alleged admitted in a police interview that after forcing him to the ground, the two had spent about "20 to 45 minutes" hitting and kicking him more than 100 times. At one point, while he was still alive, the teenager was sexually assaulted with a stick.
Making sure that he was dead, Adamson and Marquez allegedly struck Benjamin repeatedly in the head with a large rock. They stripped off his clothes and buried him.
The suspects face a murder charge, first-degree rape, tampering with physical evidence, and unlawful disposal of remains. B.J. said he hoped the Lord had put his son's mind in a safe place as he endured the brutality he faced.
In a July 9 Facebook post, B.J. wrote, 'The best way I can honor my son is through love.' The slain boy's family has set up a GoFundMe account to help raise money for his funeral and memorial.
B.J. stated that it was one thing to get mad at his son and fight him but for the two suspects to spend for 45 minutes to do what they did to his son was pure hate.
Please fill in your e-mail so we can share with you our top stories!