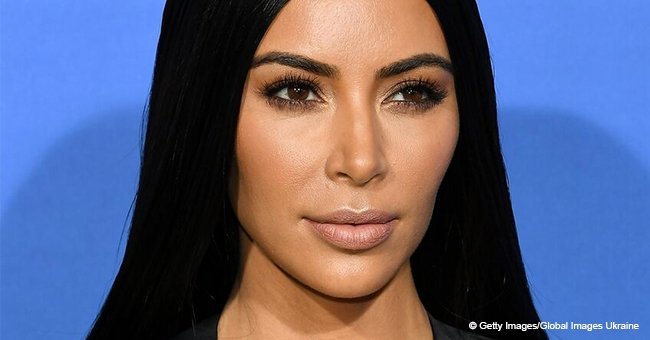 Kim Kardashian steals hearts with adorable new videos of daughter Chicago
TV personality Kim Kardashian, best known for Keeping Up with the Kardashians, took to Snapchat to share a couple of videos portraying baby Chicago.
The Instagram account @Kimkardashiansnap uploaded the videos so everybody could watch them even after Snapchat erase them twenty-four hours after being posted by the star.
One of the short recordings showed Chicago laying down while wearing a pale pink dress. One of the most interesting aspects of it was that Kim chose a Snapchat filter that drew a small rainbow and a balloon figure on the baby's cheek and painted her lips in purple.
Kim was heard saying: 'Hey Chi, look at me! Hi cutie!' For the second video, the TV personality chose a different filter to portray her newest baby
This one drew brown and white dog ears with little hearts on them, as well as a black paint-like on her nose. Kim was heard trying to get Chicago's attention so she could look at the camera again, but this time the baby opted for not doing it
The third and final video uploaded by Kim on the same day (July 9) showed Chicago with another Snapchat filter. That one drew several yellow butterflies on her head and made her eyes shiny.
Even though there are plenty of fans would like to see Chicago's face without a filter on, Kim might have a reason to post most of the baby's photos and videos with one.
As People previously reported, it is Kim's way to protect her children as she – and Khloé Kardashian – feel more comfortable by partially sharing the faces of their children.
Nevertheless, both celebrities have posted a couple of pictures showing both Chicago and Khloé's daughter, True, without filters, so it might be contradictory.
One of the members of the Kardashian/Jenner clan who decided to stop uploading pictures of her daughter and even delete the ones that were on Instagram already was Kylie Jenner.
People revealed that she did so because of all the 'nasty comments' she has got from her followers. It was finally announced that Kylie might be willing to reconsider sharing images in the future.
Please fill in your e-mail so we can share with you our top stories!