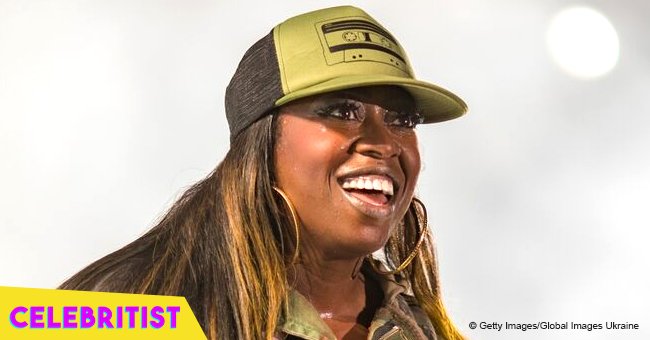 Missy Elliott covers up slimmed down body in flashy Gucci outfit while performing at Essence Fest
The American rapper, singer, dancer, and record producer covered up her drastically slimmed down body when she performed at the festival on ladies night.
Missy Elliott took to the stage at the Essence Music Festival in New Orleans, Lousiana on a night dedicated just to the girls, and wowed the crowd with her usual performance.
The festival's social media account later decided to share a number of photos from the event, including one of Missy Elliott killing it up on stage.
In the image, Missy Elliott was wearing a very colorful and overly large tracksuit jacket and a pair of matching tracksuit pants. She also had her long wavy locks hanging loose over her shoulders with just the top tied back.
She appeared to be grooving away on the stage to her music as she sang, and looked ecstatic to be up there. In the background, a number of backup dancers were visible as well.
Fans were quick to flock the comments section to ask why Missy Elliott had not been a headliner or appeared on the main stage.
"ummmm what you need me to do to make Missy the headliner?! She'd tear that stage up and probably would invite many of her friends to cater to the entire audience. Let's make this happpppppeennn!!!!" wrote Ju'Won Harris.
Deborah Hyman added: "Thank you for inviting @missymisdemeanorelliott ! She should be a headliner."
Missy Elliott's outfit also served to hide her recent weight loss, as the entire look was baggy rather than figure hugging.
6 months ago, the rapper decided to make a drastic change to her diet in order to focus on her health, and has dropped plenty of weight since then.
In an Instagram post in May, she shared her secret, saying that all she had cut out of her diet was juices, soda, and bread.
The accompanying image showed just how much she had trimmed down just by getting rid of those basic items that most people eat on a daily basis.
"Proudly to say it's been 4 months I have only drank water no other juices or soda & I cut out bread & Lord knows that's been the hardest for me!" she wrote.
Please fill in your e-mail so we can share with you our top stories!