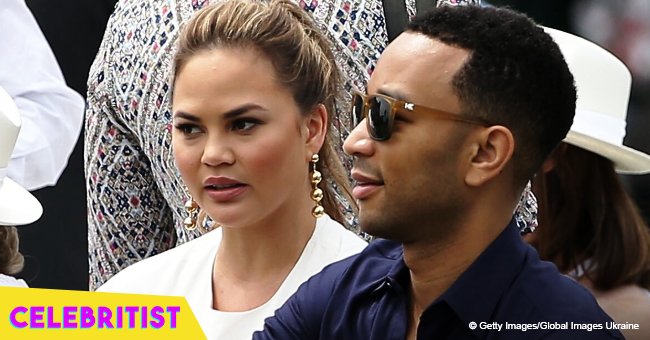 Chrissy Teigen hits back at trolls after sharing intimate breastfeeding pic of her 'twins'
The model and proud mother has clapped back at haters on social media for criticizing her sharing every single step of her journey of pregnancy, birth, and motherhood.
Chrissy Teigen has become very open with her fans on the intimate details of becoming a mother, including sharing plenty of photos of the reality that mother's face that most without children know nothing about.
But not everyone appreciates the sharing, with some openly criticizing Teigen for showing intimate photos. Fortunately, Teigen has no patience for these people, and regularly returns her own sentiments on the matter.
Teigen, who is married to singer John Legend and just recently gave birth to her second child, a son named Miles Theodore Stephens, shared a photo of herself breastfeeding the infant and her daughter Luna's doll.
"Luna making me feed her babydoll so I guess I have twins now," Teigen captioned the shot.
And while many praised her for normalizing the act of breastfeeding a baby, others weren't quite so supportive of the act being shared so publicly.
Cat'o9Tails took to her Twitter account to launch a lengthy rant about seeing Teigen feeding her baby boy.
Her entire argument rested on the fact that plenty of other acts are also completely natural, but should still be kept private, as others don't want to see them.
While 707 people liked the post, Teigen was not one of them, and quickly took to her own Twitter account to respond to the unnecessary hatred.
Teigen basically told her that if she didn't want to see the photos, all she had to do was not look and keep scrolling.
Breastfeeding campaigners have thanked Teigen for sharing these images, as it serves to help normalize the practice. Other celebrities who have shared similar images include Liv Tyler, Thandie Newton, and Alanis Morissette.
Please fill in your e-mail so we can share with you our top stories!