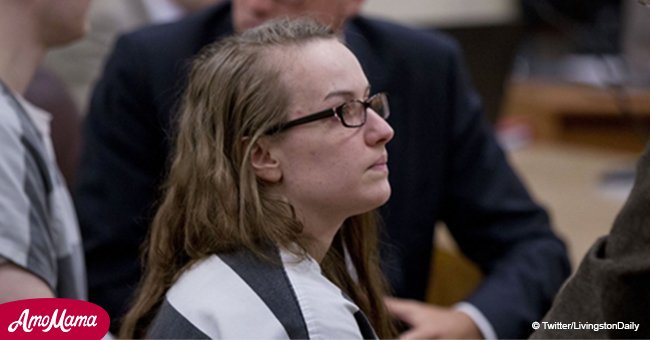 Baby dies after parents chose faith-healing instead of medical intervention

After the death of one of the twin girls, the parents pleaded guilty to negligent homicide and criminal mistreatment.
According to Oregon Live, it was the 5th criminal case in Clackamas County after a child's death in the church community over the last nine years. It was the first instance of the trail ending in a plea.
Both parents, 25-year-old Sarah Elaine Mitchell and 22-year-old Travis Lee Mitchell, were handed a sentence of six years and eight months.
The parents read out in a statement that it was their fault not to provide timely treatment to their daughter and urged fellow church members to seek required medical care for their children.
Sarah's grandfather Walter White was the founder of the Church of Followers of Christ, where the Mitchells are members. Read more about the Mitchells on our Twitter account @amomama_usa.
Ginnifer, the late daughter of the Mitchells, died March 5, last year, from complications of premature birth. The baby suffered from acute respiratory distress syndrome, according to the state medical examiner.
The couple pleaded guilty in front of 50 church supporters and Judge Eric J. Bergstrom. The Judge helped the parties resolve. The Mitchells chose not to address the court.
Senior Deputy District Attorney Bryan Brock remarked that the outcome, was a 'landmark resolution,' with the couple giving a responsible statement. He hoped that this would lead to the prevention of many unnecessary deaths.
He hoped church followers would understand that seeking medical attention and prayer were not mutually exclusive solutions.
The Mitchells' surviving daughter was in foster care. The couple was earlier charged in June 2017 with homicide by neglect and criminal mistreatment, accused of withholding medical attention from both daughters.
Sarah's lawyer mentioned that this was not a case of murder and added that the couple was decent people.
On March 5th Sarah's water broke, and she went into premature labor since the couple had never had a prenatal ultra-scan they were not aware that they would be having twins and that one of the girls had not turned in the womb.
At birth, both girls had breathing issues, but neither parent called 911 or sought for medical help. The investigators identified a relative's text mentioning the second baby is dark, and the couple was asking for prayers.
During seven months of pregnancy, Sarah Mitchell received no prenatal care and took no supplements.
In contrast, the couple sought regular veterinary care, including wellness checks, medications, and vaccinations, for their dog and cat, mentioned the prosecution.
The Clackamas County District Attorney's office said that they hoped that they never again to be forced to prosecute parents from the Followers of Christ Church for failing to provide adequate medical care for their children.
Please fill in your e-mail so we can share with you our top stories!