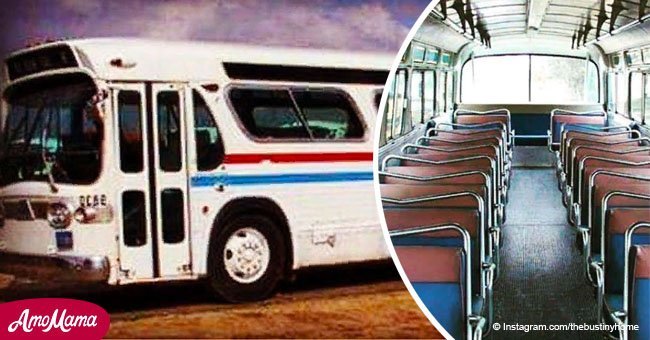 Woman buys old bus for $7,000 and turns it into a stunning tiny home
With only just $125,000 in expenses, Jessie Lipskin turned a seven thousand dollar bus into a comfortable and spectacular tiny home.
Lipskin purchased a 1966 GMC Commuter Greyhound on eBay for $7,000 in 2015 after she became inspired by the tiny house movement.
After three years of upgrades and renovations, she was able to turn an old school bus into a livable tiny home that has all the necessities any ordinary house has.
In total, Lipskin spent $125,000 on revamping the old vehicle.
For more stories like this, follow us on Twitter at AmoMama USA.
During an interview with Insider, Lipskin said that preferred the Greyhound bus rather than an RV because she wanted to have that vintage aesthetic in her living space.
For some time, she and a contractor did renovations in New York. Lipskin rented a space there while the bus was being fixed. After a while, she moved the bus to Ashbury Park in New Jersey and finished all the upgrades there.
In January 2018, the tiny home was finally finished, complete with a full kitchen, bathroom, bedroom, laundry space, and even a living area.
For the kitchen, it has a big sink, an oven and stove top, as well as a wide cupboard space.
The bathroom, which sits across the kitchen, has a standing shower that is big enough for a person to move freely in.
Other people can also come and stay the night since there is a pull-out bed located in front of the bus.
As for the challenges with the refurbishing journey, Lipskin confessed they had a hard time "building walls and storage and closets in."
The tiny home owner explained, "If the angle isn't exactly the same every time you park [the bus], you might have an issue with opening a door or something like that."
Lipskin expressed how much joy the home brings her since she can live far away from the busy streets of the big city.
She said, "I feel like I've been so busy these past few years that I haven't read as much as I'd like. I have the time now to do that."
Although, Lipskin admitted she struggles with driving since the bus is too big for her to control. She said she is considering to switch to an Airstream or a Mercedes Benz Sprinter.
She decided to sell the tiny home for $149,000.
Please fill in your e-mail so we can share with you our top stories!