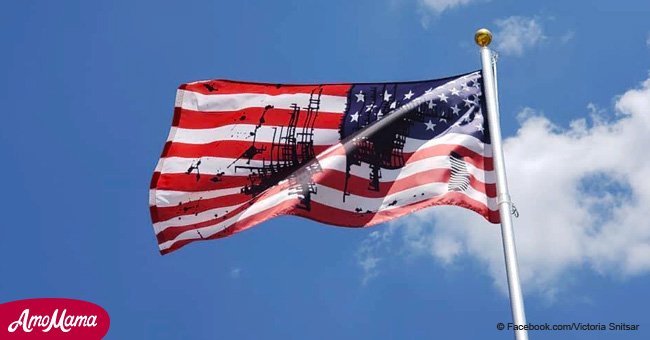 Defaced American flag raised at university said to be art
A defaced American flag, created by artist Josephine Meckeseper, has been causing quite the ruckus after being raised at the University of Kansas.
The flag is part of a project called Pledges of Allegiance, which started on November 2017 and is scheduled to end on July 30, but the fact that it is considered art is not amusing several political candidates.
According to the Creative Time website, which commissioned the piece, the flag displays two black shapes and a black-and-white sock, representing a 'deeply polarized country.'
Jeff Colyer, the Governor of Kansas, complained about the flag and called Chancellor Doug Girod on Wednesday to have the art piece taken down, a requested that Girod agreed with.
Please consider following us on our Twitter account @amomama_usa to learn more.
Kris Kobach, Secretary of State, who is running against Colyer in the August GOP primary for governor, also appealed for the flag to be removed, considering it to be 'outrageous' and a desecration of the American flag.
The artwork is called 'Untitled (Flag 2)' and is the last piece of a series of other flags that have been raised on campus as part of the Pledges of Allegiance project.
New York-based Meckeseper revealed that she wanted her creation to reflect the divisions in the country represent the need for unity to be achieved through differences.
The artist shared that the black-and-white sock on the flag is a symbol of the recent imprisonment of immigrant children at the border, a subject that she considers being of utmost importance.
Steve Watkins, who is currently a GOP candidate for Kansas' 2n Congressional District, claimed that just because people called it art, it didn't 'make it any less of a desecration.'
Erinn Barcomb-Peterson, a spokeswoman for the University of Kansas, announced that the project was intended to encourage conversations and interactions regarding the current political state, but seems like it created more controversy than understanding.
Please fill in your e-mail so we can share with you our top stories!