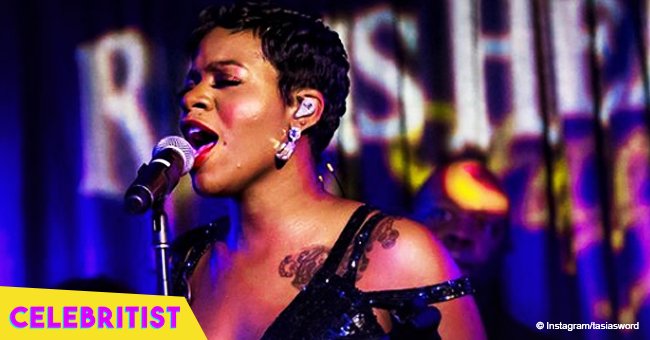 Fantasia moved to tears after brother joins her on stage during emotional Essence Fest performance
In September 2017, Fantasia's little brother suffered an accident that almost took his life and left him immobilized for months. Now, at her performance at the Essence Festival, Xavier Barrino joined her on stage, moving not only the singer but also the audience to tears.
It has been a long journey for the Barrino family in the last ten months.
Xavier Barrino, Fantasia's younger brother, was involved in a motorbike accident that left him in a critical condition. He was told by doctors he would struggle to move his extremities again, but the young man has made strides on his recovery, and his sister couldn't be prouder.
Last weekend, Fantasia took the stage at the Essence Festival in New Orleans to perform a mix of her greatest hits and some songs from her latest album, "The Definition Of."
Wearing a black and white bodysuit, the songstress owned the stage with her powerful voice and show-stopping abilities.
Close to the end of her set, Fantasia told the crowd the story of her brother's accident and how he has been fighting to go back to normal with all he has. Her touching speech transitioned to a heartfelt performance of her hit "Lose to Win," and in the middle of the song, Xavier joined her, taking the stage on his wheelchair and raising his arms to the sky.
The young man received a standing ovation from the public, while Fantasia kept on belting her high notes until the moment was too overwhelming and she started crying, kneeling by her brother's side and sharing an embrace with the young man as he kissed her forehead.
Later, the 34-years-old shared a video of the moment on her Instagram, writing in her caption a message of encouragement to all her followers using Xavier's situation as the perfect example of "Lose to Win."
She wrote:
"Keep Fighting! Just as my Lil Bro did after 30+ surgeries & procedures! Sometimes you'll have to Lose, but you'll Win Again if you really want it bad enough! I had to go all the way in for my Baby Bro @xavierbarrino Listen, everyone, Yea we all fall but it's how you get back up that they will remember Most!"
Fantasia has been there supporting Xavier from day one with his rehabilitation therapy, and even though he put a little resistance at first, he's now determined to have a full recovery and be able to walk again.
A few months ago, Xavier shared a touching picture of his sister kissing his cheek while he ate on his wheelchair, and his caption denotes the immense love and gratitude he has for Fantasia:
"I no she got my back @tasiasword I love you for dragging me out the house and showing me the world is still mine #wheelchair #kafo #recovery."
We're glad to know Xavier is making progress on his recovery. We can't wait to see him walking by himself with the support of his family and especially his sister Fantasia.
Watch the touching video below:
Please fill in your e-mail so we can share with you our top stories!