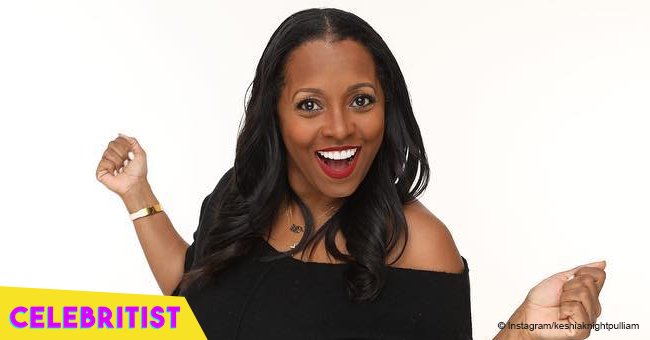 Keshia Knight Pulliam flaunts slim figure in tight leggings in recent picture after divorce
Keisha Knight Pulliam showcases her curves in a recent post where she reveals the secret to her weight loss just a year after giving birth to her daughter. The actress just finalized her nasty divorce with ex-husband Ed Hartwell who she slammed while rapping a tune in a video she also shared.
Keshia Knight Pulliam flaunts a slim figure just over a year after giving birth to her daughter Ella Grace Hartwell in January 2017.
Her secret, according to a recent post is the trending appetite suppressing lollipop, the same one Kim Kardashian promoted in the past which earned her a lot of criticism from fans.
Keisha held on to the weight reducer as she posed alongside a bicycle and showcased her trim physique in her paid partnership post. Proud of her achievement, she promoted the lollipop and swore by it in her caption.
"Especially on the go @flattummyco lollipops help reduce my snacking. I literally take them everywhere with me. Oh & BTW they're 20% off right now. Go check out flattummyco.com & grab a bag or two for yourself. #ad"
The actress, best known for her role as Rudy Huxtable in 'The Cosby Show' recently made headlines after blasting her ex-husband Ed Hartwell in a rap song. In a video she posted, she takes a jab at Donald Trump's hair while spouting verses against her baby daddy.
"Thirty-eight years ain't enough. I've been doing this longer than Donald Trump's hair's been messed up.
"My baby daddy hit the switch up, I knew I should've got a prenup"
The 38-year-old was officially divorced from Ed in April following a nasty battle over their daughter's custody. Under their divorce agreement, Keisha was awarded full custody of Ella Grace while the former 'Real Housewives of Atlanta' star got visitation rights and was required to pay $3,007 a month in child support.
The couple also fought over their daughter's last name, each insisting she carries only their last name. As a compromise, they agreed Ella Grace would carry both last names with a hyphen.
The former couple surprised everyone when they wed at the turn of the New Year in 2016 after four months of dating. By July that same year, they announced they were expecting their first child. It was also around that time when Ed sprung divorce papers on Keisha, questioning the paternity of their daughter. Ed claimed Keisha wanted to get pregnant right away after they got married and he didn't. He suspected the actress went behind his back. The reality star also revealed he had a sit down with his wife and admitted they may have moved too fast with their relationship while he still cared about his ex-girlfriend.
Please fill in your e-mail so we can share with you our top stories!